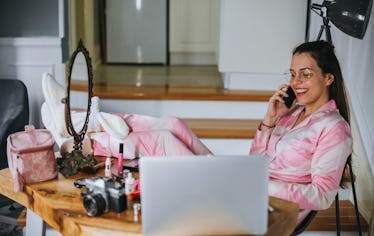 12 Virtual Bridal Shower Games That'll Break The Ice & Start The Party
Nikola Stojadinovic/E+/Getty Images
Hosting a virtual bridal shower can be easier than you think. First, you have to send out invitations to the guests, including the bride's friends and closest family members. In those invitations, you should include a link to a Zoom chat or FaceTime call, along with a time in which you're going to log on and celebrate together. Then, you only need to prepare some virtual bridal shower games that'll break the ice and get the party started.
It's really that simple, because everybody is tuning in from their homes. So, you don't have to worry about getting a meal catered, hiring a sweet photographer to take pictures, or finding a venue that's equally dreamy and rustic — much like your bride's overall theme for her wedding. Your only task is to make sure everybody is entertained, excited, and making some new mems together. (Oh, and to fill any awkward silences that may occur with amazing stories about the bride or a cheery transition into a bridal shower game.)
These 12 games in particular are tried and true, and always show up at a bridal shower. The best part? They can be played virtually or IRL. Gather up your celebratory crew, grab a glass of wine and some snacks, and get ready to laugh, smile, and feel the love along with your beautiful bride.