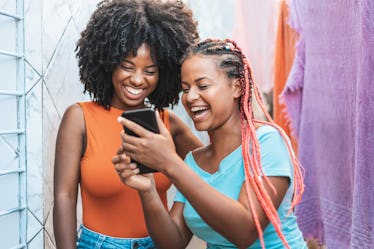 12 Virtual Bachelorette Party Ideas That The Bride-To-Be Will Totally Adore
MesquitaFMS/E+/Getty Images
There's no "right" way to have a bachelorette party. Some brides want to take the occasion and turn it into a lavish trip. Others may prefer to keep the event low-key. As long as you're honoring the bride and her wishes, you can celebrate however you'd like. That includes opening your laptop and trying out virtual bachelorette party ideas that include wine, food, and a ton of laughs.
Maybe your crew is spread out across the country, or you don't have the time and budget to splurge on something grand. That's all well and good, because a virtual bachelorette party is cost-effective and still incredibly special. It brings the bride's besties together before her big day, and lets everyone make new memories no matter where they are in the world. In addition, it can have an itinerary that's packed with themed games, pre-wedding advice, and heartfelt stories.
To say the least, the bride-to-be will adore having a virtual bachelorette party and likely document the event through screenshots and photos on her phone. She'll rave online about the special, clever, and totally unique celebration you put together, too. If you need some party ideas, these 12 will get you started and give the bride a set of heart eyes.