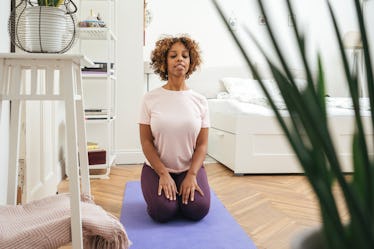 Download These Free Yoga Apps So You Can NamaSTAY At Home
Westend61/Westend61/Getty Images
Sometimes, it's more fun to work out at home. You can roll out your yoga mat in your room, fill up your favorite water bottle in your kitchen, and let your pup hang out with you while you're practicing downward dog or meditating. Not to mention, there are lots of free yoga apps out there that will guide you through a flow and make it possible to namaSTAY at home.
Unlike some of the other workout apps you might already have on your phone, they come with a ton of exercises led by professional teachers at the beautiful price of $0. They allow you to warm up, work your muscles and get some cardio in, and cool down. The best part is they don't require activating your Apple Pay or swiping a credit card. If you already have a membership to a gym or are simply trying to save money, this is big deal. Having fitness as the tip of your fingers makes your wellness routine flexible and easy to do anywhere and at any time.
If you're in the market for a free yoga app, try out these five before any others. They're truly top-notch and will let you namaSTAY at home.