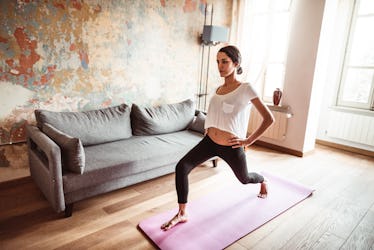 SWEAT & Reebok Are Doing Free At-Home Workouts, So Get Hyped
franckreporter/E+/Getty Images
Going to the gym isn't always an option, but that doesn't mean you can't get active at home. You can still put on your favorite pair of leggings and sports bra, roll out your yoga mat, and participate in free at-home workouts thanks to today's technology. You can stream live sessions with trainers and reach your fitness goals from the comfort of your living room.
The only catch is you have to make time in your schedule to do so. Some at-home workouts are meant to be done at a certain time, because they bring well-known trainers and people around the world together for an amazing workout. Others require you to pencil out a 45-minute block of time on your own where you can stretch your muscles and practice the yoga poses you've always dreamed of doing. Either way, leaving yourself the time to work out at home will likely make you feel incredibly refreshed and give you the chance to get active after work or over a weekend without leaving your home.
It'll likely make you feel accomplished and happy you made time to stretch it out. That's very important, and these free workouts will help you reach your goals right at home.