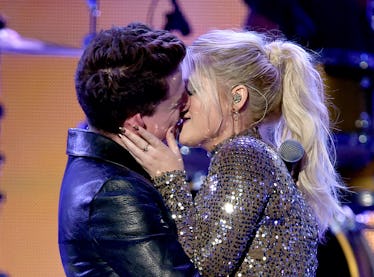 All The Celeb Makeouts From The 2010s You Couldn't Forget If You Tried
Kevin Winter/Getty Images Entertainment/Getty Images
Looking back on the 2010s, there are so many celebrity relationships that defined pop culture in an unforgettable way. This was the decade that brought us two major royal weddings, the Kimye marriage (which was basically a third royal wedding), and the entire Justin-Selena-Hailey saga. But beyond those historic romances, there were innumerable celeb hookups, flings, and PDA-filled moments — some that fans were living for, and some that people would probably give anything to unsee. The most memorable celebrity makeouts of the 2010s will make you nostalgic in both good ways and cringey AFways. The world may have moved on by now, but you'll never forget where you were when the gossip went viral.
Some of these makeout sessions happened in very public settings, like an awards show or a concert. Others were caught on camera or recorded on social media. Regardless, there's a "can't look, can't look away" quality to all of them, maybe because in a way they're so relatable? It's funny to see your favorite stars macking on each other like no one else is watching. Celebrities, they're just like us!
Prepare for the trip down memory lane you never knew you needed until now. You're welcome (and I'm sorry) in advance.