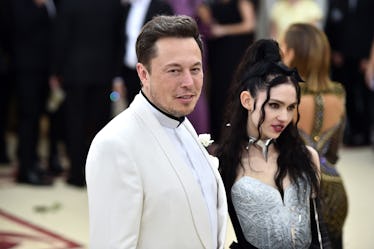 12 Celebrity Couples That Confirmed Their Rumored Romance In 2018, Because It Was A Big Year For Love
Theo Wargo/Getty Images Entertainment/Getty Images
After making thousands of excuses for why I don't have a monogamous romantic partner to various members of my extended family (that I only talk to on Christmas), I find solace in remembering all the celebrity couples that confirmed their rumored romance in 2018. What can I say? 2018 was a wild year for love — from Hollywood to Bollywood (Hi Priyanka and Nick) to everywhere in between. If you spent your holiday dodging slams about internet dating and millennials, it may help to remind those judgmental 'Boomers that 2018 was a big year for more traditional romance, and a whole lot of celebrity weddings.
From award shows to tearful bike rides to the "will they, won't they?" love celebrity love stories that finally came to full fruition, 2018 kept the angel Cupid busy, (and probably OKCupid busy too.) From the celebrity romance perspective, 2018 was a year for taking risks, unlikely pairings, 11 year age differences, and getting married very quickly into dating. (Again, hi Priyanka and Nick!)
As 2018 begins to end, and all the "Best Of..." and "Worst Of..." lists come upon us, let us take some time to celebrate love, and root for the newly confirmed celebrity relationships 2018 brought to us.