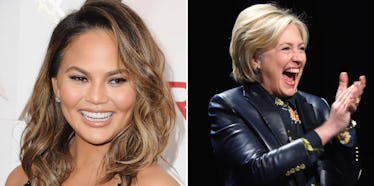 11 Best Clapbacks Of 2017 To Give You Life Before Starting The New Year
John Kopaloff/Araya Diaz/Getty Images
We've finally made it, guys. 2017 is mercifully coming to a close. To say this year has been a headache would be a goddamn understatement. To say it was difficult is just beginning to hit the nail on the head. I honestly can't even think of one word to describe this entire year, but if I could, it wouldn't be a pretty one. ("Apocalyptic" comes to mind?) But one thing that got us all through this trash year was all of the epic celebrity clapbacks that went down. To honor them, I've rounded up the best clapbacks of 2017. They will remind you of the times these celebrities brought some joy back into our lives (remember joy?) by shutting down all of the people on the internet who fall into the large category of people who are just The Worst™.
From Kim Kardashian throwing shade right back at those who threw it at her to Hillary Rodham Clinton slaying Twitter with tweets that Trump will never live up to, this year has been a year of people calling out the bullsh*t when they see it. We love to see it, they love to give it, and I'm here for it all. So here are the best celebrity clapbacks of 2017 that'll help you start your new year with a resounding, "Yasssssss, b*tch!"
Back in July, Kardashian was seen out with North West. Kardashian had dressed her daughter in an orange, satiny dress with spaghetti straps that seemed to have a corset on it. The Daily Mail reported that Karadashian had made her daughter wear a corset, and people on Twitter erupted in anger over the idea of Kardashian putting a corset on 4-year-old. Kardashian clapped back at the Daily Mail on her Snapchat story and Twitter real quick, saying it only looked like a corset.
Her video started with, "And the Daily Mail, this one's for you." She continued saying, "This dress — that I did not design, I actually bought — is not a corset. It's just fabric on the front that looks like a [corset]. So, I think it's really cute, I bought it from a designer... and it's just fabric, people. It's not a real corset." In her tweet, she said, "I would never put my daughter in a corset! It's a dress I bought that is a cotton fabric that laces up & looks like a corset! Just decoration."
Trump, as always, had some things to say about Hillary Clinton after he was inaugurated. Back in September, when Clinton's What Happened (which combs through the details of the election and Clinton's analysis of how it all went down) came out, Trump went on another pointless rant about Clinton that totally didn't come off insecure at all! In one of his tweets, he said, "Crooked Hillary Clinton blames everybody (and every thing) but herself for her election loss. She lost the debates and lost her direction!"
Clinton clapped back and said, "If you didn't like that book, try this one — some good lessons in here about working together to solve problems. Happy to send a copy." This clapback was epic on its own, but the fact that she suggested the children's book she wrote to him was a clear jab saying that he might enjoy some ~lighter reading~ if What Happened was too much for him. Honey, I live!
Over the summer, people started noticing Rihanna was getting "thick." Some praised her for it, others shamed her. Neither of them should have been saying anything, quite frankly, because commenting on women's bodies (whether positive or negative) is still a way of policing them.
Anyways! There was a since-deleted article on Barstool Sports titled "Is Rihanna Going To Make Being Fat The Hot New Trend?" Excuse me?! Stop. Just stop everything you're doing, Barstool. Rihanna clapped back on Instagram with a Gucci Mane meme that said, "If you can't handle me at my 2007 Gucci Mane, you don't deserve me at my 2017 Gucci Mane." It was everything. Rihanna can't be bothered by the bullsh*t of men. She's too queenly.
4. The time Zendaya hired a woman to be a model for her clothing line after she was body-shamed on Twitter.
Back in January, a tweet showed two pictures of the same woman. One was a selfie that didn't show her body, the other did. The tweet said, "Never trust a top half posting a** female lmao." The tweet full-on body-shamed the woman, and Zendaya shut it down real quick. She quoted the tweet and said, "Stumbling across this is stupid sh*t, she is fine as hell head to toe and garunteed doesn't know you exist my man. As for her, slay on queen."
She followed up that tweet by literally asking for help to find who the woman was so she could hire her as a model. Zendaya tweeted, "Can we find her @.... I'd love for her to be a @dayabyzendaya model." She found the woman's handle and tweeted at her saying, "@_illestCee hey, you're gorgeous lol." Take that, stupid guy!
This one's pretty simple. Olympic gold medalist Simone Biles competed on Dancing With The Stars. Throughout her time on the show, one of her biggest critiques was that she didn't show enough emotion and she was "too perfect." Um, what?! Being perfect is a bad thing?! She was once asked by the judges why she wasn't smiling more. Without missing a beat, she replied, "Smiling doesn't win you gold medals." No, it does not! Smile less, slay more, queen.
This is without a doubt my favorite clapback of 2017, and it's 100 percent because it's Cher. First of all, we must address the fact that Cher addresses Trump by using the toilet emoji. Iconic. She's been vocal about her disdain of him ever since the election, so when the Dreamers were about to have their rights stripped away and one woman tried to come for Cher, Cher delivered the most epic clapback.
Cher tweeted, "Those Who Can Must Take a DREAMER in2 Their Home & Protect Them. I'm Ready 2 Do This & [praying emoji] MY BUSINESS WILL DO THE SAME!! SANCTUARY." A woman responded, "Sure you will Cher.. I'll believe it when I see it!" To which the goddess of the earth responded, "Then keep your eyes open b*tch." HELLO? POLICE? I WOULD LIKE TO REPORT A MURDER.
7. Amber Tamblyn shutting down James Woods/being one of the biggest celebrity voices in calling out sexual assault/harassment online.
Amber Tamblyn has been one of the most vocal voices in this post-Harvey Weinstein world we live in. She advocates for women on Twitter on the daily, tweeting to make sure women who have experienced sexual assault/harassment know they are supported and believed. This advocacy was highlighted before the Harvey Weinstein allegations came out when she clapped back at James Woods and the people who didn't believe her when she said Woods sexually harassed her and her friend when they were teenagers.
Woods basically claimed he didn't remember the incident, and lots of people were tweeting at Tamblyn saying she was lying.
So, Tamblyn texted the friend whom Woods also allegedly harassed, screenshotted the conversation and tweeted it, saying, "Since I know people love to question the integrity and honesty of women when they come forward with stories like this, here you go." Boom.
Taylor Swift spent the summer of 2017 in a courtroom countersuing the DJ who groped her. A couple years ago, DJ David Mueller allegedly grabbed Swift's "bare ass" while posing for a pic with her. She informed his employers, and he was fired. Two years later, he sued her for millions of dollars for getting him fired. She countersued for a symbolic $1, and her testimony was lauded for its sharpness.
Mueller's attorney continually tried to discredit Swift's case, but Swift shot back at all of his attempts. When asked why it's not clearly seen that the man was grabbing her behind, she said, "Because my ass is located in the back of my body." She also said, "I'm critical of your client sticking his hand under my skirt and grabbing my ass," and "I am not going to allow your client to make me feel like it is any way my fault, because it isn't." She added, "I am being blamed for the unfortunate events of his life that are a product of his decisions and not mine." Swift was included as one of the "Silence Breakers" in TIME's Person Of The Year issue. In Taylor Swift's TIME for the Person of the Year interview, she said,
In 2013, I met a DJ from a prominent country radio station in one of my pre-show meet and greets. When we were posing for the photo, he stuck his hand up my dress and grabbed onto my ass cheek. I squirmed and lurched sideways to get away from him, but he wouldn't let go. At the time, I was headlining a major arena tour and there were a number of people in the room that saw this plus a photo of it happening. I figured that if he would be brazen enough to assault me under these risky circumstances and high stakes, imagine what he might do to a vulnerable, young artist if given the chance. It was important to report the incident to his radio station because I felt like they needed to know. The radio station conducted its own investigation and fired him. Two years later, he sued me.
Swift only received that $1 recently, months after the courts mandated Mueller to pay her.
9. That time Chrissy Teigen shut down a Trump-supporting Twitter troll who said her life had peaked.
Back in July, Trump blocked Chrissy Teigen on Twitter and she thought it was incredible. She tweeted, "After 9 years of hating Donald J Trump, telling him 'lol no one likes you' was the straw." A Trump supporter responded back to her tweet trying to defend Trump, but forgot he was tweeting at the reigning queen of Twitter. Big mistake.
User @GorgonFreeman tweeted, "And that's probably the best thing you'll ever have happen to you. Congrats on peaking." He deleted his tweet shortly after Teigen responded with the most epic clapback ever (the troll can't handle being trolled, apparently). It comes in parts. First, she replied with a selfie of her and John Legend chilling at a restaurant, unbothered AF.
Then, she said in another tweet, "I have a best-selling book, great boobs, a family I love, am literally eating pasta on a lake in Italy, and I married rich." That dude messed with the wrong queen of Twitter.
In an interview during Wimbledon this July, an interviewer asked Andy Murray about U.S. player Sam Querrey. The reporter said, "Sam is the first U.S. player to reach a major semi-final since 2009, how would you describe..." Murray stopped him right there and corrected the reporter, saying, "Male player."
Murray was referring to the fact that Venus and Serena Williams have both reached semi-finals since 2009, as well as other female tennis players. The reporter responded, "Ah yes... male player. That's for sure." Don't forget about the ladies next time, dude. Gotta love that casual sexism!
This is more of an educational clapback than a savage interaction between celebrities and trolls. Rihanna's Fenty Beauty line has had one of the most successful launches out of any new makeup line this year. She's been lauded for the diversity of her products, as well as the diversity of her ads. There are women of all walks of life featured in the makeup ads, but there aren't any trans women.
One Twitter user tweeted at Rihanna saying, "Fenty Beauty campaign is awesome, next time you record something should invite a trans girl to the group." Rihanna was prepared with her response, proving she had really thought this issue through before she created the ads. She said,
I have had the pleasure of working with many gifted trans women over the years, but I don't go around doing trans castings! Just like I don't do straight non trans women castings. I respect all women. Whether they're trans or not is none of my business. I don't think it's fair that a trans man or woman be used as a convenient marketing tool! Too often do I see companies doing this to trans and black women alike! There's always just that one spot in the campaign for the token 'we look mad diverse!' girl/guy. It's sad!
The user tweeted her response to him and said, "When I thought she couldn't teach me more... @rihanna <3"
I hope you all have the happiest new year. May dreams of impeachment dance through your heads.