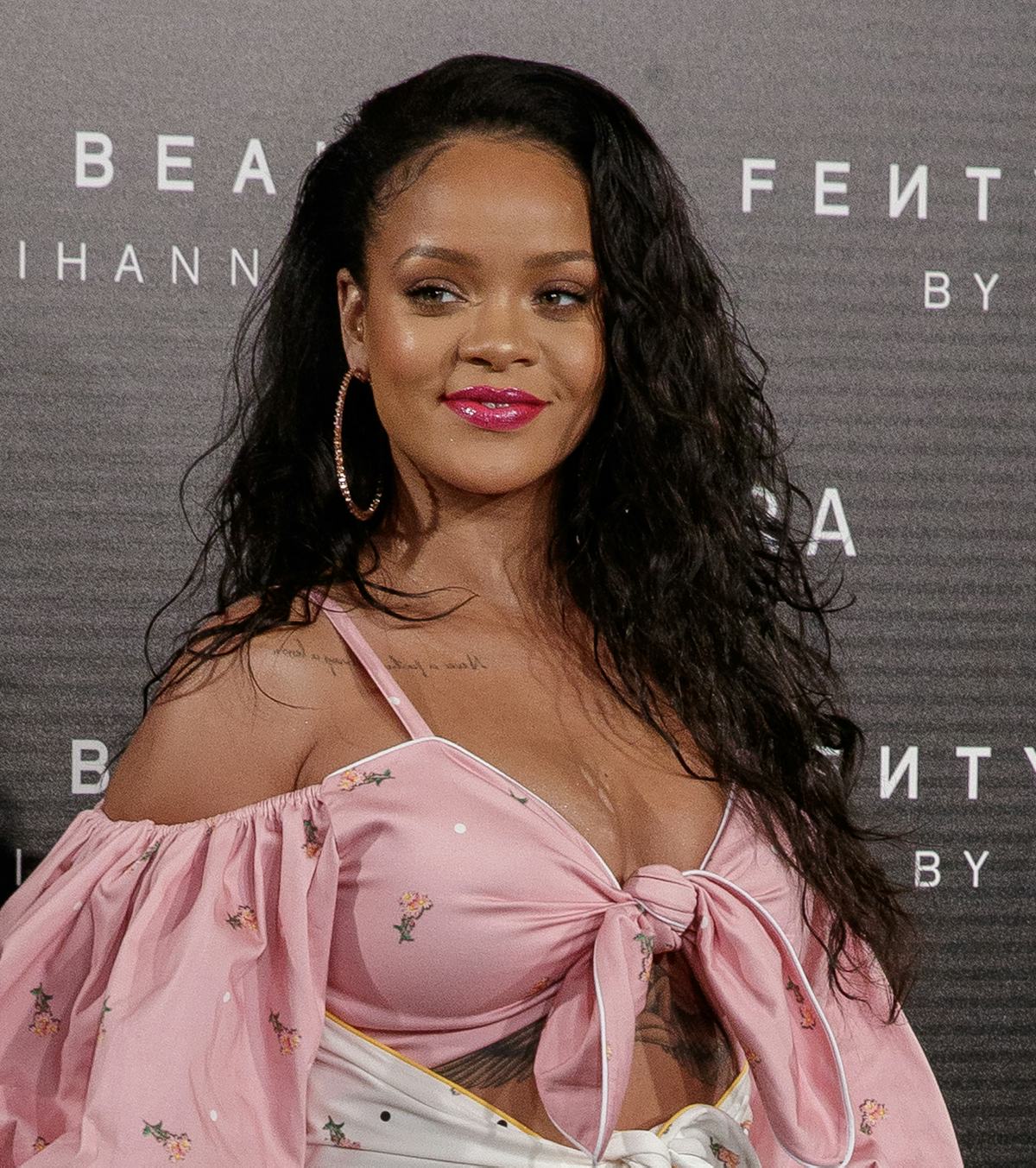 Rihanna Was Called Out For Not Using Trans Models, But Her Response Actually Made A Lot Of Sense
Eduardo Parra/Getty Images Entertainment/Getty Images
This year, Rihanna added the title "inventor" to her resume, when Fenty Beauty was listed as one of Time magazine's best inventions of 2017. Since its debut in early September, Fenty foundation has flown off shelves during each restock, and it's always the deepest shades that go first. Although Fenty has quickly become one of the most diverse beauty brands on the market, a fan recently noticed that although Fenty ads featured women of all skin tones, Rihanna doesn't use any trans models in her campaigns, prompting some WTF questions from her fans.
It's rare to get a response from a celeb on Twitter, but it seems Ri thought the issue was too serious to ignore when a fan raised the question. When Twitter user @lbertootero DMed the "Lemon" singer to ask why no trans models were featured, Rihanna wasted no time providing a thoughtful response, proving she really does think of everything when it comes to the careful crafting of her beauty line.
Twitter user @lbertootero, who goes by the name "Savage," asked Rihanna about the issue point blank, saying, "Fenty Beauty campaign is awesome, next time you record something should invite a trans woman to the group." The message can be seen posted to @lbertootero's account:
At first glance, it sounds like Savage has a point. Makeup use isn't limited to just one gender or even one sexual orientation. As important as it is to show diverse skin tones in beauty ads, it's also important to blur the gender lines in advertisements to showcase that all men, women, trans, gender non-conforming, and non-binary individuals can be interested in (and wear!) something equally.
But Rihanna knows the media can be a double-edged sword. She responded to let the user know that even though giving trans men and women a platform is always important, exploiting their identities just to get headlines and attention isn't something that Fenty is about. Rihanna wrote back an honest and insightful message to the Twitter user, providing some clarity as to why no trans women have appeared in her ads (yet!). She wrote,
"I have had the pleasure of working with many gifted trans women over the years, but I don't go around doing trans castings! Just like I don't do straight non trans women castings. I respect all women. Whether they're trans or not is none of my business. I don't think it's fair that a trans man or woman be used as a convenient marketing tool! Too often do I see companies doing this to trans and black women alike! There's always just that one spot in the campaign for the token "we look mad diverse!" girl/guy. It's sad!"
OK, cue the slow claps. You literally will never catch Rihanna off her game. She had an honest reason why Fenty Beauty has never put out a call for trans models, and really, did you expect anything else from the queen?
Even the fan who Rihanna responded to had no words for Rihanna's comment. He posted another tweet from his account showcasing the message from Rihanna and added, "When I thought she couldn't teach me more..."
Rihanna has a good point; the definition of diversity shouldn't be: "here's a group of Caucasian, cisgender models and here's one person of color to prove we're inclusive." Of course diversity is important, but it's equally as important to stop tokenizing men and women of color, trans individuals, and non-binary people as pawns to illustrate that brands are doing "their job" to be more inclusive.
Of course, it's great to call attention to brands, models, and campaigns that fit this mission, but we can't forget that tokenizing "otherisms" is a huge step backward for equality on any scale.
So, thanks for the reminder, RiRi. Now can you DM me to let me know when Fenty will launch more products? Please, and thank you.