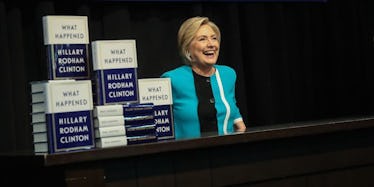 Hillary Clinton Clapped Back At Donald Trump On Twitter And It's So Savage
Drew Angerer/Getty Images
President Donald Trump just can't get over the election -- and Hillary Clinton is taking advantage of that for some laughs. After the president tweeted about her on Wednesday night, Sept. 13, Clinton tweeted back at Trump, and the exchange is pretty epic. Former Secretary of State Clinton is not letting Trump get off the hook for his childish temperament, she shows in her tweet.
Clinton has been back in the news lately with the release of her book, What Happened, which came out on Tuesday, Sept. 12. The book details her personal perspective on, well, what happened in the 2016 presidential election, in which a vast majority of the predictions and polls were wrong and Clinton lost in a shocking result -- despite winning the popular vote.
In the book, she talks about the variety of reasons she lost -- ranging from Russian interference to Bernie Sanders to former FBI Director James Comey to Trump's greater appeal to parts of the United States. And, yes, before you start, she blames herself as well, taking responsibility for the loss.
Clinton has also been discussing these reasons in her book tour for What Happened. In an interview with CBS on Sunday, Clinton spoke about a time last year when she called Trump's supporters a "basket of deplorables." You know, because Trump's supporters included the Ku Klux Klan, the alt-right, and other people who discriminate in a sometimes violent manner against other humans.
However, those supporters then turned around and took on "basket of deplorables" as a sort of Avengers-style moniker, reclaiming it as something to be proud of. In the CBS interview, Clinton said she regretted using that term -- to an extent.
"I'm sorry I gave him a political gift of any kind, but I don't think that was determinative," Clinton said.
In spite of everything going on in the United States -- from natural disasters to questions about health care and immigration policies -- the President of the United States of course took the time to take a swipe at Clinton on Twitter as if he had nothing better to do. Trump tweeted on Wednesday night that Clinton "lost the debates and lost her direction!" He added in a follow-up tweet that Clinton's "'deplorables' came back to haunt" her.
So on Thursday, Sept. 14, Clinton -- who really does have nothing better to do -- responded to Trump on Twitter. She wrote that if Trump didn't like What Happened, he could try her other newly-released book. That other newly-released book is a children's illustrated version of her 1996 book It Takes A Village.
"Some good lessons in here about working together to solve problems," Clinton tweeted in a reply to Trump. "Happy to send a copy."
Yup. Clinton told Trump to read a children's book.
With that one tweet, she said everything she needed about how she thinks Trump is handling the presidency. Namely, that he's handling it like a child.
Lots of people were here for Clinton's swipe back at the president.
Naturally, this being Clinton, there were also lots of people who were not here for her, including Daily Wire editor-in-chief Ben Shapiro, who apparently forgot about the 65,979,879 people who voted for Clinton (which was about 3 million more people than showed up to vote for Trump).
Thus far, Trump has not responded to Clinton's clapback. He's in Florida surveying damage from Hurricane Irma, so hopefully he keeps his priorities straight as President of the United States and doesn't stop his work there to respond to this. We'll see.
Despite her regret for handing Trump's supporters the "deplorable" phrase, she stands by her characterization of Trump's actions. She told CBS on Sunday,
I thought Trump was behaving in a deplorable manner. I thought a lot of his appeals to voters were deplorable. I thought his behavior as we saw on the Access Hollywood tape was deplorable.
But, she realized, although she though Trump was acting in a deplorable manner, his supporters didn't seem to care. She added,
There were a large number of people who didn't care. It did not matter to them. And he turned out to be a very effective reality TV star.
And there you have it.
Check out the entire Gen Why series and other videos on Facebook and the Bustle app across Apple TV, Roku, and Amazon Fire TV.