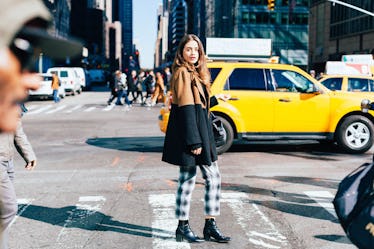 10 Real Fall Struggles Only People Who Live In NYC Can Relate To
The struggle is real. Will that phrase ever get old? Probably not. It'll get passed down from generation to generation, bonding everyone in its path and reminding you that you're not alone in this world. Especially when you're walking the streets of a city, your problems can feel so small. Don't worry: I hear you and those fall struggles if you live in NYC, loud and clear. *Sigh.* This is not what it looked like on Gossip Girl.
Growing up, you always had some big city dreams. You begged your mom to take the train into The Big Apple on the weekends, and had posters of the skyline in your room. You watched shows like Friends with your besties from high school, and imagined what your own apartment would be like. Naturally, you'd paint the walls purple and find that picture frame for around the peephole on the door. To top it off, you'd become a regular at a place like Central Perk.
Sure, you turned some of those visions into a reality. But, like a travel blogger's viral photo on Instagram, those television shows didn't show you the struggles going on behind the scenes. You never saw Rachel running through dirty and humid subway stations to get to her first fashion job, or the times when Monica had to dodge tourists on the sidewalk. Just like you, they probably dealt with these 10 fall struggles, too. Can I get a, "same?"