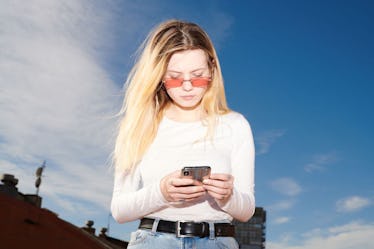 The Top 10 Emojis Millennials Love To Use & TBH, Wouldn't Want To Text Without
The spring of my senior year of high school, I got called down to our assistant principal's office. I won a superlative in our yearbook, and they wanted to run it by me. The superlative was, "Always On Their Phone." I could've easily been offended by this new title, but I embraced it because I knew it was so true. I texted in every single one of my classes. (Sorry, mom!) I was like most millennials, completely attached to the digital world and everything it has to offer. The emojis millennials love to use, in particular, became my forté. And to this day, I honestly couldn't communicate without them. Can I get a, "Same?"
Let's be honest: You rely on emojis to get your message across a lot. When your bestie sends you an embarrassing video from when you were teenagers, you instantly send the face that looks like it's saying, "Yikes!" When you want to spend a weekend night at home watching movies and eating pizza, you look for the pepperoni slice and text it to your roommates with a question mark.
Nobody's confused as to what you mean. They respond just the with heart in response to your sweet, "Have a good day," texts, and the hundred points one when you show them a selfie. These 10 emojis, though, are what you all live by — the ones that you really wouldn't want to communicate without.