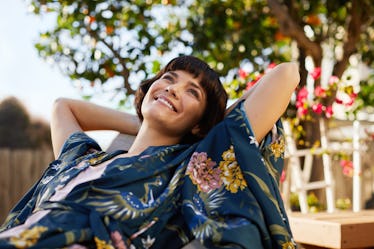 10 Disney-Inspired Backyard Ideas You'd Wish Upon A Star For
Goodboy Picture Company/E+/Getty Images
Your backyard has so much potential to become the space you've always dreamed of. Since you've been spending a lot of your free time there lately, you might as well give it the makeover it deserves — and these Disney-inspired backyard ideas just might be the inspo you've been looking for.
When you're not lounging on your back porch and swimming in the pool like you're Ariel, you're rewatching your favorite movies like Beauty and the Beast, The Lion King, and Alice in Wonderland on Disney+. Little did you know, watching these classic films is like scrolling through a Pinterest board with a ton of home decor ideas. Take a cue from Peter Pan and string up a bunch of starry lights in your backyard, so you can always look for "the second star to the right." Channel Jasmine and treat yourself to a gorgeous outdoor carpet that can take your space to "a whole new world." Turn your garden into your very own wonderland that you can get lost in like Alice.
Go through your favorite Disney movies or take a look at these 10 Disney-inspired backyard ideas and be inspired by what you see. Before you know it, you'll have a backyard that you once wished upon a star for.