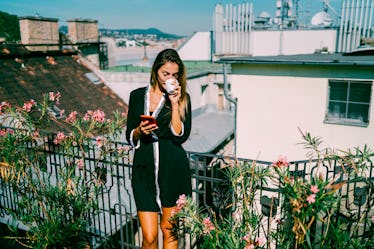 These Disney-Themed Balcony Garden Ideas Will Make You Want To Break Out In Song
martin-dm/E+/Getty Images
At the beginning of quarantine, you may have made the decision to boot up Disney+ and watch every animated film ever released. You knew from the start it was a hefty task, but you had time to kill while staying safe at home and didn't mind spending your afternoons with Mulan, Cinderella, Moana, and Tiana. Now, you want to make your home feel like one of the magical castles on your TV screen. Look no further than Disney-themed balcony garden ideas that will turn your space into "The Happiest Place on Earth."
Simply put, these balcony garden ideas will make you feel like royalty. You'll wake up in the morning, pour yourself a cup of iced coffee, and step out into the sunshine. You'll be surrounded by adorable succulents and twinkly lights that complement each beam, and probably want to break out in song. Of course that might bug your neighbors, so instead, you'll want to pull out your camera and capture the essence of your space for social media.
If you already post a lot about Disney, then your followers may slide into your comments and say, "Wow, this looks exactly like the balcony in The Princess and the Frog," or, "Of course you decked out your balcony to be a replica of Rapunzel's in Tangled" in reaction to your pic. Here's exactly what you need to make the magic happen, and turn your balcony into a Disney-themed space.