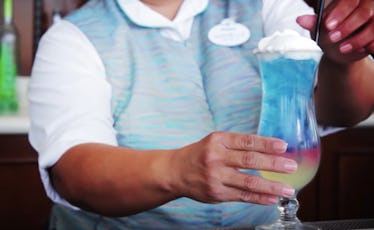 10 Disney Parks' Drinks You Can Make At Home For A Taste Of Magic
There's no need to pack your bags, because the perfect Disney day is waiting for you at home. There are virtual ride videos you can watch and fireworks shows to stream, so now all you need to know is how to make Disney parks' drinks at home, and you're set. You've probably seen copycat recipes of your favorite park snacks and desserts, but sometimes, you want your fave Disney drink in hand when you're relaxing on the couch.
Luckily, there are recipes out there that don't require a park ticket in order for you to enjoy them. These 10 Disney drink recipes are perfect for when you simply want to treat yourself and experience a cup of magic while watching a Disney film. You could also whip up a round of drinks for you and your roomies the next time you're all hanging out. There are some classic non-alcoholic drinks like a Dole Whip Float that anyone can enjoy, and some cocktails from Trader Sam's (if you're 21 or up).
The best way to enjoy any of these drinks is when you're unwinding at home, imaging your dream Disney day. Just don't forget the selfie of you enjoying your finished product and savoring every last sip.