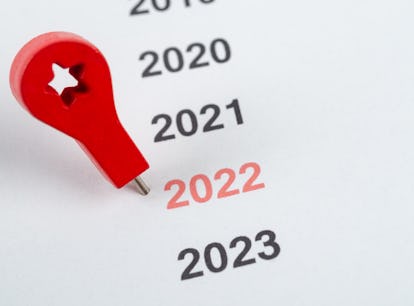 Twitter Has Mixed Feelings About 2021 *Finally* Ending
Pakin Songmor/Moment/Getty Images
With 2021 on its way out and 2022 right around the corner, people on Twitter are having conflicting feelings about saying goodbye to the year that was. Whether you're of the camp that 2021 was too short, too long, too uneventful (LOL), or too stressful, these 22 tweets about 2021 ending perfectly describe how everyone is feeling.
Ahh, 2021. It was far from perfect, but it did give us not one, not two, but three COVID-19 vaccines, and that's worth celebrating. It was also the year of Olivia Rodrigo, Squid Game, and the 2020 Olympics, which, yes, took place in 2021. But even with its highs, 2021 is a year that will go down in infamy — a year that we will remember "All Too Well" (10 minute version) (Taylor's version) (from the vault).
There were plenty of memes (remember Bernie Sanders' mittens?), viral trends (I still get the songs from Ratatouille: The TikTok Musical stuck in my head), and iconic songs that made this year bearable, but if I had to describe 2021 in a word, it would definitely be: cheugy. This year was a wild ride, and Twitter's feelings about the end of the year definitely reflect that.
From the sheer joy of seeing 2021 end to the disbelief that it's already over to begging 2022 to be a little kinder, these tweets about 2021 ending are all too relatable.
I think it's fair to say 2021 won't be missed, but if you want to relive the good parts, check out the best memes that kept you laughing all year long.