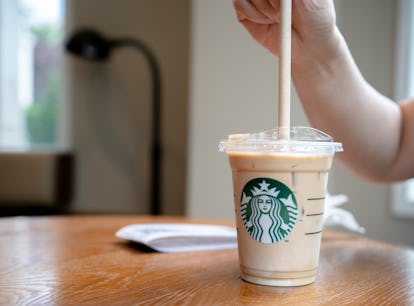 These 18 Starbucks Latte Hacks Include Taylor Swift's Go-To Drink
Your coffee runs will never be the same.
Zhang Peng/LightRocket/Getty Images
Starbucks brings the variety to your coffee run with new seasonal menus each year, but when you want to change it up even more — or hack a classic latte when it's out of season — that's when you need to get creative. Between swapping in oat milk for your PSL or adding cold foam to any chilly drink, there are so many ways you can change up a latte. When your steamed milk and espresso need a little something extra, it's always good to have some simple Starbucks latte hacks up your sleeve. If you're ready to upgrade your latte, make sure to try these seriously sweet creations on your next coffee run.
There's no shortage of secret menu drinks to choose from, but sometimes the best hacks are the simplest. Take Starbucks' November 2021 collab with Taylor Swift, for example, which brought the singer's go-to coffee order, a Grande Nonfat Caramel Latte, to the menu for a limited time to celebrate the re-recording of her 2012 album Red. The promotional drink is long gone from the Starbucks menu, but the simple latte hack remains. With so many sweet syrup combos and exciting extras to choose from, you can customize your Starbucks order every time and almost never run out of options.
BTW, these sips can be ordered on the Starbucks app or in person. If you're on mobile, be sure to choose your specifications to make sure it's just the way you like it, and if you're making any swaps in-store, remember to ask for the customizations since you can't order hacked drinks by name.
Remember to be patient when you're in store and asking for a customization — especially if its during a very busy time. Then, after you play around with these TikTok-approved options, you might even come up with your own go-to Starbucks Latte hack. It's time to embark on a tasty and hack-filled Starbucks adventure.
This article was originally published on