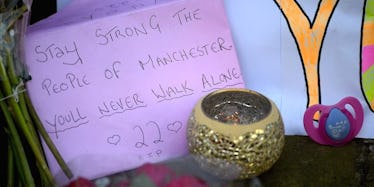 Queen Elizabeth Responds To Manchester "Act Of Barbarity" In Statement
Getty Images
Queen Elizabeth has responded to the deadly attack in Manchester at an Ariana Grande concert.
She released a statement on Tuesday addressing the United Kingdom as well as the victims, emergency services, and the people of Manchester.
The bombing at the Manchester Arena on Monday night, near the end of the Grande show, killed at least 22 people and injured dozens others. The first identified victim of the attack was 18-year-old Georgina Callander.
In an official statement released on Tuesday, the queen said "the whole nation has been shocked by the death and injury in Manchester last night of so many people, adults and children, who had just been enjoying a concert."
Queen Elizabeth expressed her "deepest sympathy" to the victims, "especially to the families and friends of those who have died or were injured."
The queen thanked the members of emergency services, "who have responded with such professionalism and care" at the scene of the attack.
Queen Elizabeth concluded her statement,
And I would like to express my admiration for the way the people of Manchester have responded, with humanity and compassion, to this act of barbarity.
Following the bombing on Monday night, the people of Manchester opened their doors to house and shelter concertgoers who may have been stranded, including children who were alone at the concert.
Taxi drivers offered free rides throughout the night, and business offered their services.
So many people donated blood in response to the attack that it was announced early on Tuesday that no more was needed.
People around the world have already donated hundreds of thousands of dollars to support the victims and their families.
The bombing happened at around 10:30 p.m. local time. It was reported to be a suicide bombing, and the assailant died in the act.
ISIS has claimed responsibility for the attack, although they "produced no evidence," according to NBC News.
Citations: ISIS Claims Responsibility for Manchester Concert Attack; Toll Rises to 22 (New York Times), Manchester Arena Suicide Bombing: 22 Die at Ariana Grande Concert (NBC News)