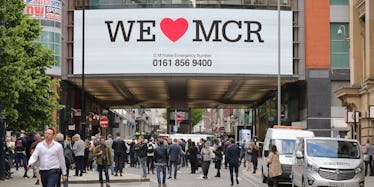 People Performing Acts Of Kindness After Manchester Explosion Will Move You To Tears
Getty Images
On Monday evening around 10:35 p.m. (5:35 p.m. ET), Greater Manchester police responded to calls of an explosion at the Manchester Arena in the UK, where an Ariana Grande concert was taking place.
GM police have confirmed the blast killed at least 22 people and injured over 50 other individuals, and they released the following statement on Twitter early Tuesday morning:
Following the explosion, the people of Manchester have refused to stand down in the face of fear. Immediately, those near and far from the site of the explosion offered to help in any way they could.
The night of the concert, many individuals opened up their doors to concert attendees and their families who were stranded in Manchester, helping to take care of children who were alone at the concert.
One woman named Paula Robinson immediately began taking stranded children to a nearby Holiday Inn following the explosion until they could get in touch with their parents.
Both normal citizens and businesses opened up their doors the night of the attack to offer stranded individuals shelter:
Businesses and other individuals have offered help to anyone still stranded or in need of food, as well as to the emergency responders and other law enforcement officials working to ensure everyone is taken care of following the explosion:
Citizens in Manchester have even flocked to nearby blood donation centers to donate blood to the victims of the attack:
Taxi drivers around Manchester have started offering their services for free to get those affected by the explosion where they need to be:
Ariana Grande was not injured in the explosion. Her rep told E! News, "Ariana is okay. We are further investigating what happened."
Elite Daily has reached out to Ariana Grande's team for more information, but did not hear back by the time of publication.
Though devastated by this senseless act of violence, the true spirit of the people of Manchester has been a bright light during this trying time. It's clear the citizens of Manchester will refuse to back down in the face of fear.
Our thoughts are with the victims of this tragedy and their loved ones.