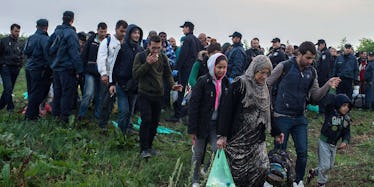 The White House And Kickstarter Are Proving We Can All Help Refugees
Getty Images
There are currently around 60 million forcibly displaced people across the world. Close to 20 million of these individuals are refugees, the majority coming from Syria.
War, violence, poverty, persecution and oppression have driven these people from their homes.
Thousands upon thousands of refugees are fleeing to Europe, hoping to find at least a modicum of peace and stability.
The world hasn't seen this many refugees since World War II, and the number of forcibly displaced people across the globe is the largest in recorded history. One in every 122 people on Earth is currently a refugee.
We are witnessing an unprecedented crisis, and it's only expected to get worse, making the world increasingly unstable in the process. None of us can afford to sit idly by as this tragic situation persists.
As President Obama recently stated while addressing the United Nations General Assembly,
In the old ways of thinking, the plight of the powerless, the plight of refugees, the plight of the marginalized did not matter. They were on the periphery of the world's concerns. Today, our concern for them is driven not just by conscience, but should also be driven by self-interest. For helping people who have been pushed to the margins of our world is not mere charity, it is a matter of collective security.
This is precisely why the Obama administration recently announced it will increase the number of refugees the US accepts each year to 100,000 by 2017, compared to the current cap of 70,000.
Given the severity of the situation, the Obama administration urged everyone and anyone to help any way they can. In the president's words:
This isn't just about what I can do as President. Every single one of us – from citizens to NGOs – can help refugees find safe haven.
All of us can help refugees find safe haven. Find out how you can here → http://t.co/2PGCl1NflO #AidRefugees pic.twitter.com/IVECraCwOc — The White House (@WhiteHouse) October 6, 2015
Correspondingly, the White House helped convince the crowdfunding site Kickstarter to partner with the UN refugee agency (UNHCR) and start a campaign raising money for refugees worldwide.
It's a fantastic initiative and any amount of money can help. To put this into perspective, just $30 could provide 50 people with drinking water. As of Wednesday afternoon, the campaign raised over $1 million.
Together, we've now raised over $1 million(!) to help #AidRefugees. See the impact: http://t.co/nswRGdj9US pic.twitter.com/ugy76w72TH — Kickstarter (@kickstarter) October 7, 2015
If you want to heed the president's call and help refugees, there are a number of benevolent and reliable organizations you can donate to beyond the UNHCR, including Doctors Without Borders, International Rescue Committee, Save the Children, Catholic Relief Services, International Medical Corps, Mercy Corps, Migrant Offshore Aid Station, Medical Teams International, Refugees Welcome and the International Organization for Migration.
If you can't donate money at this time, don't worry, there are plenty of other ways you can help.
Get informed.
There are a number of myths about refugees being spread around. Some seem to suggest they're terrorists when there's no evidence of this whatsoever.
Don't buy into these unfounded assertions, it will only serve to worsen this crisis. When it comes down to it, refugees are really no different from you or me.
Make sure you are getting the facts from reliable sources, such as the UNHCR.
As a global community, we will be better equipped to address this crisis if we are well informed about it.
Talk about it, spread awareness.
Don't let people ignore this. This is happening now and requires imminent attention. It's not just an matter of what is right, but also what is practical.
Most of us are on some sort of device more than we'd like to admit. Use this habit constructively and share information about the crisis on social media:
Great initiative from @Kickstarter & @Refugees to #aidrefugees from Syria. Join the effort: http://t.co/HtATqksYhE — Kirsten Gillibrand (@SenGillibrand) October 6, 2015
Today there's a new way to #AidRefugees. Together, we can help: http://t.co/nqrFNaqlsp pic.twitter.com/xZYdO5iAC2 — Neil Gaiman (@neilhimself) October 7, 2015
You've been asking...here's how to #AidRefugees http://t.co/kC9sMijv8X @POTUS — Connie Britton (@conniebritton) October 6, 2015
Volunteer.
If you'd rather offer your time than money, that works too. There are plenty of opportunities to volunteer in conjunction with the global refugee crisis.
The International Rescue Committee has 22 offices across the US and is actively seeking volunteers.
You can also volunteer via the United Nations and the American Refugee Committee International.
The point is, whether you donate money or simply tweet about it, even the smallest effort can help the millions of refugees worldwide.
The only thing we can't afford to do is live in ignorance or pretend this isn't happening. This is global crisis: keyword, "global." It's on all of us to address it.
Citations: AidRefugees Heeding the President's Call to Take Action (White House), One in every 122 people is displaced by war violence and persecution, says UN (The Guardian), World At War (UNHCR), The Full Transcript of President Obamas Speech at the United Nations General Assembly (Newsweek)