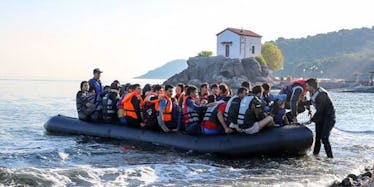 'Humans Of NY' Uses Emotional Posts To Reveal The Humanity Of Refugees
The popular photoblog Humans of New York (HONY) garnered millions of fans by combining powerful photos with insightful and often humorous captions.
Brandon Stanton, HONY's creator, helped illuminate the day-to-day lives of people often viewed as gruff and impersonal: New Yorkers.
In the process, he reminded us we should never judge a book by its cover; everyone is fighting a secret battle.
Stanton has now applied this concept to the global refugee crisis, posting photos of refugees along with their stories to the HONY Facebook page.
The importance of this effort cannot be overstated. If there is any hope of mobilizing the world to address this crisis, we have to work to humanize refugees.
There are currently around 60 million forcibly displaced people across the world; around 19.5 million of these individuals are refugees.
The majority, around four million, emanate from Syria, with many also coming from Iraq and Afghanistan.
War, violence and persecution forced far too many people from their homes, and hundreds of thousands are heading to Europe in hopes of better lives.
In spite of the horrors refugees have endured, they haven't always been met with compassion.
Countries like Hungary have told them they're not welcome. Slovakia said there are too many Muslims and it has no mosques (this is literally what it said), stating it would prefer Christian refugees.
Correspondingly, far too many have attempted to depict the refugees as terrorists in disguise.
The truth is, the vast majority of refugees are normal people, just like any of us, with their own life stories, families, friends, hopes and dreams.
But with the way they've been portrayed by some in the media and by certain world leaders, it's hard to recognize that.
HONY is helping to dispel the misperceptions surrounding refugees by revealing their humanity.
For the next several days, I'm going to be sharing stories from refugees who are currently making their way across... Posted by Humans of New York on Friday, September 25, 2015
The journey across the Mediterranean is perilous, but the people making it don't have many options. What would you do if your home was destroyed as your country was consumed by war?
For context on the upcoming stories, it is important to understand the 'plastic boat.' The plastic boat is a central... Posted by Humans of New York on Monday, September 28, 2015
This Syrian man's brother was killed by ISIS, and his father was badly beaten by the police. He had to leave his country or risk the same fate.
"Before leaving for Europe, I went back to Syria to see my family once more. I slept in my uncle's barn the entire time... Posted by Humans of New York on Saturday, September 26, 2015
Tragically, this woman's husband was lost as they crossed the Mediterranean.
"My husband and I sold everything we had to afford the journey. We worked 15 hours a day in Turkey until we had enough... Posted by Humans of New York on Monday, September 28, 2015
Children, like the girl in this photo, deserve to grow up in peace.
"I wish I could have done more for her. Her life has been nothing but struggle. She hasn't known many happy moments. ... Posted by Humans of New York on Monday, September 28, 2015
Faced with death threats and poverty, these people were willing to risk anything to get out.
"There is no security in Baghdad. We lived in constant fear. We started receiving text messages one day. They said: '... Posted by Humans of New York on Tuesday, September 29, 2015
Fortunately, there are instances in which refugees get the help they need, but it's not easy.
"After one month, I arrived in Austria. The first day I was there, I walked into a bakery and met a man named Fritz... Posted by Humans of New York on Sunday, September 27, 2015
We can't afford to view the global refugee crisis as beyond our control or less imminent than our domestic problems.
This is an issue for the entire globe to address. When disorder grows in the world, we all face the consequences. Sitting idly by as this crisis ensues is not only inhumane, it's impractical.
The United States, among other countries, can do much more to reduce the suffering of the millions of refugees across the world. But first, we need to recognize these refugees are members of the global society we all live in.
Citations: Hungarian PM We dont want more Muslims (Al Jazeera), We have no mosques Slovakia says it would prefer Christian refugees (RT), Ben Carson Syrian refugees could bring terrorists (CNN)