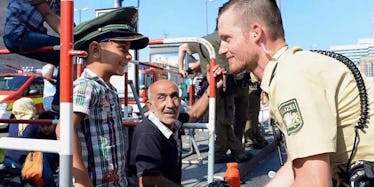 13 Images Of Germans Welcoming Refugees To Restore Your Faith In Humanity
When images of Aylan Kurdi's lifeless body washed ashore on a Turkish beach went viral last week, much of the world was hit right in the gut.
Kurdi was a 3-year-old boy from Syria. He's one of the 2,500 people who died this year attempting to cross the Mediterranean in search of a better life. His death stands as a tragic reminder of the international community's inadequate response to the plight of millions of refugees, especially the more than four million emanating from Syria.
Europe is currently facing its worst refugee crisis since World War II. People fleeing war and persecution in places like Syria, Iraq and Afghanistan are flooding into the European Union by the thousands.
Across the globe, 60 million people are displaced, the most at any point in recorded history. This is the worst refugee crisis of our era. But many of the world's wealthiest countries have barely responded, choosing to turn a blind eye to rampant human suffering.
Under these circumstances, it's easy to grow cynical. When the strongest among us won't stand up for those in need, the world can feel like a hopeless place.
But not every country has chosen to stand idly by as millions suffer. Germany has emerged as an unparalleled leader in responding to this crisis.
German Chancellor Angela Merkel recently announced Syrian refugees will be allowed to stay in Germany and apply for asylum, as opposed to being deported back to the country they arrived from. As The Washington Post notes, this was an unprecedented move in terms of the laws of the land. It signified Germany's belief that all countries should share the burden of extending a helping hand to refugees.
Germany pledged to allow 500,000 refugees to enter the country every year and expects 800,000 to arrive by the end of 2015. According to NBC News, Germany is willing to spend around $6.6 billion in response to the influx of people.
Comparatively, the United Kingdom said it will only accept about 20,000 refugees by 2020, which some argued is not enough.
While there has been evident xenophobia throughout Germany in recent months, the government and much of the country are determined to show Germans are hospitable and caring people.
Over the past week or so, these sentiments were on full display as thousands of refugees entering Germany encountered a heartwarming reception.
Indeed, Germany is showing the world what compassion and humanitarianism really mean.
These images of Germans welcoming refugees into their country will restore your faith in humanity. In spite of the many challenges we currently face, there is still good in this world.
People came out to applaud the arrival of refugees in Munich.
"Welcome to #Germany" - Heartwarming scenes as people greet and applaud refugees in #Munich. pic.twitter.com/JXWiiTcECK — Barzani Hussein (@Barzani_HN) September 6, 2015
While other countries are treating refugees as nuisances, Germany welcomed them like heroes.
#Frankfurt welcomes hundreds of #refugees from #Syria : #trainofhopeffm pic.twitter.com/KJXAmkAoYT #refugeeswelcome https://t.co/ZFbHnsJiFn — Adrian (@servantadrian) September 6, 2015
Germans sang, "Refugees are welcome here."
MUST WATCH: European governments are put to shame as Germany shows the world how to welcome Syrian refugees. https://t.co/hB6RU1gQIY — Mohammed Ansar (@MoAnsar) September 6, 2015
Toys and candy were handed out to children.
Welcome treats - the Kamit family from Munich giving sweets and toys to Syrian refugee boy. #Germany pic.twitter.com/HE5alvCXf1 — UN Refugee Agency (@Refugees) September 6, 2015
A police officer gave up his hat to a visibly delighted Syrian boy.
#Germany Police officers gives his a hat to a #Syria-n child and says welcome pic.twitter.com/nGMaa0RzQa — Alecto (@insananinzoka) September 4, 2015
Volunteers in Munich came to make the refugees feel welcome.
#RefugeesWelcome. Numerous volunteers assist #refugees arriving in #Munich #Germany. Respect! Pic via @chbartlau pic.twitter.com/IB1xWy8otS — Lotte Leicht (@LotteLeicht1) September 1, 2015
Food and water were given to refugees at the Munich train station.
#Syria This how German people (warm & humanitarian souls) welcomed Syrian refugees in # Munich station pic.twitter.com/gCgMxQKZgN — Ḱ@яℯℯм ℒαḯł@н (@KareemLailah) September 1, 2015
Members of the world famous Bayern Munich soccer team also came to show their support.
Bayern Munich's Javi Martinez went to the train station to give refugees shirts and footballs. Classy guy pic.twitter.com/0wZ7y8cZ8q — Juan Direction (@JuanDirection57) September 5, 2015
In Frankfurt, volunteers gathered shoes and supplies for incoming refugees.
In Frankfurt, items/supplies awaited refugees on the #trainofhopeffm. pic.twitter.com/2Zb2K3VQ2v [pictures via @blockupy] — Taniel (@Taniel) September 6, 2015
German children came out to join the welcome wagon as well.
German child waiting for the refugees at Munich station. He brought toys to share with children who lost all in war. pic.twitter.com/3DeQzxhE2a — Alma Nefic (@AlmaNefic) September 6, 2015
In spite of all they have endured, refugees were extremely relieved to arrive in Germany.
A young refugee boy already knows the joy of reaching safety in Munich, #Germany pic.twitter.com/1rUxU9ur0x — UN Refugee Agency (@Refugees) September 8, 2015
People are good.
volunteers ready to welcome refugees from Syria in Frankfurt, Germany #refugeeswelcome pic.twitter.com/Ue51GJcFvb — _ (@_hanaibrahim) September 6, 2015
There is still hope.
Last night at #Frankfurt main station. Waiting to #welcome #refugees. #trainofhope #refugeeswelcome pic.twitter.com/5eCBmFyPIN — Evelyn Narciso (@Landmeedchen) September 6, 2015
Citations: Refugee Crisis Innovative Ways Germans Are Welcoming Them (ABC News), Germany vows to fight xenophobia after attacks on refugee home (Reuters), Germanys small yet important change to the way it deals with Syrian refugees (The Washington Post), Germany open to 500000 refugees each year as crisis grows on continent (The Washington Post), Migrant crisis UKs Syria refugee plan not enough says Labour (BBC News)