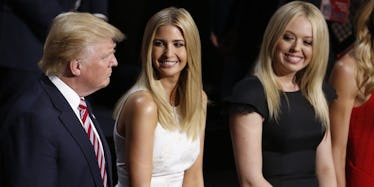 Trump's Daughters 'Won't Let Him' End Abortion Rights, Roe V. Wade Lawyer Says
REUTERS
Dr. Sarah Weddington, who represented "Jane Roe" in the landmark Supreme Court case that made abortion legal around the country, believes Tiffany and Ivanka Trump will keep their father, Donald, from taking away abortion rights.
Unless the Republicans in the Senate magically decide to do their jobs and finally appoint President Barack Obama's nominee, Merrick Garland, to the Supreme Court, Trump will get to make his own nomination.
He has made it clear that he would nominate an anti-abortion justice in an attempt to undo Roe and take away women's right to abortion.
Weddington spoke to TMZ about what she thinks will happen to Roe v. Wade under a Trump presidency. She said,
Trump has been somebody that's had different positions on this issue at different times, and he's got enough female children that are very strong. I can't imagine them letting the law be overturned.
As much confidence as Weddington has in the Trump daughters, I'm not quite as convinced. Ivanka gave a spectacularly progressive speech at the Republican National Convention this summer, but, by endorsing her father, she's endorsing his platform, which includes getting rid of abortion access.
Weddington and I do agree that Trump's vice president, Mike Pence, is much scarier than Trump himself.
I tend to worry more about Pence because he's been absolutely against Roe v. Wade as long as I can remember, and because [...] I think in some ways he'll be the key person on legislation for Trump.
Just as a quick refresher, Pence is the guy who signed one of the grossest, biggest anti-abortion package of bills into law as governor of Indiana. That was just this past spring.
Weddington also spoke about Trump's comments on "60 Minutes" this Sunday. There, he said he would let the states decide on the legality of abortion (i.e., reverse Roe v. Wade).
Trump said that women might "have to go to another state" to get an abortion if that happens.
Mind you, women already have to go to another state to get an abortion in many parts of America due to restrictive state laws.
Weddington said,
Trump is basically saying, "Well, then women will have to move across state lines to get the services they need." So, that means there's going to have to be a lot of organization to try to have the money that women without funds are going to need to get places where they can get services.
Conveniently, there are organizations already doing that, like the National Network of Abortion Funds.
When Whole Woman's Health clinics were shut down in Texas after laws were passed, the organization bought bus tickets and hotel rooms for women who then were forced to travel to get the healthcare service.
This past summer, the Supreme Court ruled that forcing women to travel across state lines for an abortion is unconstitutional.
Citations: TMZ, New York magazine