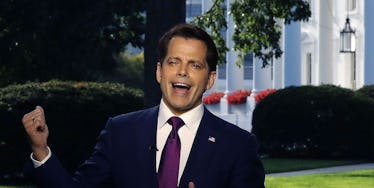 Trump Is Reportedly Firing Anthony Scaramucci, And Twitter Is Freaking Out
Mark Wilson/Getty Images
Goodbye to one of Donald Trump's shortest-lived staff appointments. The New York Times reported on Monday afternoon, July 31, that newly appointed White House communications director Anthony Scaramucci was out, thanks to the disapproval of new chief of staff John Kelly. Short as it was, Scaramucci made an impact -- and tweets and memes about Scaramucci's firing starting flying immediately.
Elite Daily reached out to the White House for comment on the removal, but did not hear back at time of publication.
Scaramucci held his office for only a scant 10 days after being named to the position on July 21.
The appointment was immediately scandalous, thanks to reports that Scaramucci clashed with then-press secretary Sean Spicer, as well as then-chief of staff Reince Priebus. Spicer resigned in protest, and a week later, Priebus was let go in favor of Kelly.
Some saw the firing as sweet, sweet karma for Spicer and Priebus.
Some people dragged out things that Scaramucci himself had boasted of -- not even two weeks ago.
As communications director, Scaramucci condemned leaks out of the White House (most memorably in an insane, expletive-filled on-the-record call to a New Yorker reporter). On July 25, he told reporters on the White House lawn that the way he planned on dealing with leaks was to simply fire everybody. "You're either going to stop leaking, or you're going to get fired," he told The New York Times.
The words definitely came back to haunt him.
And some just pointed out how short Scaramucci's term was.
There were plenty of people who listed things that had lasted longer than the reportedly-former communications director. Like, the @PressSec Twitter handle still shows Sean Spicer's picture.
People saw plenty of dramatic possibilities.
Of course, the question now is who will fill the void left by Scaramucci's absence. Anything is possible, and considering the progression of White House staff shakeups so far... like, seriously, anything is possible.