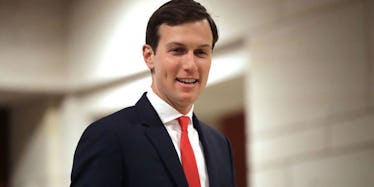 Jared Kushner Told Interns The Craziest Reason Why Trump Couldn't Have Colluded
Chip Somodevilla/Getty Images
Unless you've been living under a rock, you're probably aware that things aren't going so well for the Trump administration at the moment. In the past two weeks alone, we've seen three top figures in the White House either resign or be dismissed. Meanwhile, President Donald Trump still has to deal with the stress surrounding the Russia investigation. But, according to what Jared Kushner told interns, all of the chaos surrounding the Trump team is proof it couldn't have colluded with Russia, Foreign Policy reports.
During a private talk at the Capitol Visitor Center in Washington on Monday, July 31, Kushner reportedly told interns, "They thought we colluded, but we couldn't even collude with our local offices."
Kushner's remarks have not been confirmed by the White House.
If Kushner really said this, he appeared to be claiming team Trump is so disorganized, it couldn't possibly have been coherent enough to collude with a foreign government during the U.S. presidential campaign.
This doesn't exactly inspire confidence in the Trump administration's ability to govern.
But, as Foreign Policy points out, it could be smart for Trump and his team to claim what occurred simply amounted to confusion and disorder from a legal standpoint. This way, in terms of the ongoing investigation into the Trump campaign's alleged collusion with Russia, their defense can claim what happened didn't amount to criminal behavior, but simply incompetence.
Kushner has been under a lot of scrutiny lately over the Russia investigation due to a meeting he attended with a Russian lawyer linked to the Kremlin during the U.S. presidential campaign.
Donald Trump Jr. and Paul Manafort also attended the meeting.
Emails released by Trump Jr. on July 11 showed the president's son attended the meeting under the impression he was being offered information provided by the Russian government that would be damaging to former Secretary of State Hillary Clinton.
Kushner failed to disclose that he attended this meeting on his SF-86 form, the document federal employees must fill out to gain security clearance. The form required Kushner to disclose all foreign contacts he's had in the past seven years, but he initially failed to mention any of them. He's now amended his form three times, according to The New York Times.
On July 24, Kushner offered a private testimony to the Senate Intelligence Committee about the meeting. He was not under oath during this testimony. In a prepared statement released to the public prior to the closed-door testimony, Kushner strongly denied any collusion with the Russian government and downplayed his role in the meeting with the Russian lawyer. He also essentially blamed his assistant for the errors on his SF-86.
Kushner reiterated his denial of any collusion in public remarks outside of the White House after his meeting with the Senate Intelligence Committee.
While speaking with the interns in Washington on Monday, July 31, Kushner was reportedly asked about his SF-86 form, and allegedly said, "There are 127 pages on the SF-86, but there are only two you guys have to worry about." Kushner reportedly added, "Make sure you guys keep track of where you travel."