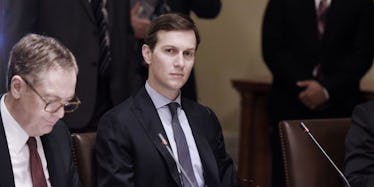 Jared Kushner Has The Most Relatable Excuse For The Controversial Russia Meeting
Olivier Douliery - Pool/Getty Images
White House Senior Adviser Jared Kushner is insistent he did not collude with Russia during the 2016 U.S. presidential campaign.
In Kushner's prepared remarks to congressional investigators on a controversial meeting he attended with a Russian lawyer linked to the Kremlin, he attempted to downplay his involvement. His prepared remarks were published by The New York Times.
The meeting was also attended by Donald Trump Jr., the president's son, and Paul Manafort, who was serving as Donald Trump Sr.'s campaign chair at the time.
Kushner claimed he was late to the meeting and was so disinterested in what he was being said he emailed his assistant and asked her to help him get out of it.
In the email, Kushner reportedly said, "Can u pls call me on my cell? Need excuse to get out of meeting."
Kushner has been under a lot of scrutiny in relation to this meeting.
There have been calls for Kushner to have his security clearance revoked due to the fact he initially omitted this meeting, among others, from his SF-86 form -- the document federal employees must fill out to get security clearance.
Kushner was required to list all foreign contacts he's had in the past seven years on the form. He's now amended the form three times to include such contacts. At one point, according to The Hill, Kushner added over 100 previously undisclosed foreign contacts.
In his prepared remarks to congressional investigators, Kushner blamed his assistant for what occurred.
He said the incomplete form was due to "miscommunications" and claimed the assistant submitted it under the false impression it was complete.
Kushner claimed he doesn't know what the meeting was about.
Donald Trump Jr. recently released emails that led up to the meeting that revealed he walked into it believing he was being offered damaging information about former Secretary of State Hillary Clinton.
What's more, Trump Jr. was told this information was being provided by the Russian government as part of a larger effort to aid his father's candidacy.
In his prepared remarks, Kushner claimed he didn't know about any of this until he was recently shown the emails by his lawyers.
It seems Kushner, who also happens to be the president's son-in-law, is not willing to take responsibility for anything that occurred in relation to his interactions with Russians and security clearance form issues.