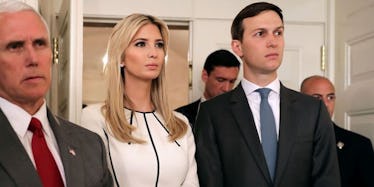 Jared Kushner Is In Danger Of Losing This Special Position In The White House
Chip Somodevilla/Getty Images
Jared Kushner, White House senior adviser and Donald Trump's son-in-law, is under a lot of pressure in relation to the ongoing investigation into the Trump campaign's alleged collusion with Russia.
As a result, some in the White House are worried Kushner will lose his security clearance, CNN reports.
Ivanka Trump's husband has come under scrutiny recently after it was revealed he attended a meeting alongside Donald Trump Jr. with a Kremlin-linked Russian lawyer during the U.S. presidential campaign.
On July 11, Trump Jr. tweeted emails pertaining to the meeting that revealed he walked into it under the impression he was being offered information that would be damaging to former Secretary of State Hillary Clinton and aid his father's candidacy.
What's more, Trump Jr. was also told the information was gathered by the Russian government as part of a larger effort to help his father's campaign.
This, combined with other issues, has led many to call for Kushner's security clearance to be revoked.
Kushner has been in hot water for awhile now.
The revelation Kushner attended the meeting with the Russian lawyer not only adds to the controversy surrounding the Trump campaign's alleged collusion with Russia, but also the fact he omitted meetings he had with Russians from his SF-86 form -- the document federal employees must fill out in order to obtain a security clearance.
Kushner was required to disclose all contacts he's had with foreign government officials over the past seven years.
He initially failed to do so, and has now amended his SF-86 three times. In one update to the form, Kushner added more than 100 previously undisclosed foreign contacts, according to The Hill.
It's worth noting the form includes a warning that those who submit false information could be charged with a federal crime and face up to five years in prison. But, according to The Washington Post, legal repercussions for false info on SF-86 forms are rare.
Still, that doesn't mean Kushner is completely out of the woods.
Beyond the scandalous meeting and the issues with his SF-86, Kushner also generated controversy when it was reported that he'd attempted to set up a secret communications channel between Trump's transition team and the Russian government in December (Russia refused).
This is pretty sketchy for an array of reasons, but largely because U.S. intelligence agencies would not have been able to monitor such a backchannel.
Given all this, there are calls from Democrats in Congress for Kushner to have his security clearance revoked, or perhaps even be fired.
Senators Al Franken, Richard Blumenthal, and Mazie Hirono wrote a letter to the director of White House management and Office of Administration, which states,
Given the enormity of the outstanding national security concerns regarding his conduct, Mr. Kushner should not retain access to our nation's most critical secrets.
The letter noted Kushner's "pattern of delay" with disclosing contacts with foreign officials, and expressed concern Kushner has met with other foreign individuals and perhaps had additional "inappropriate Russian contacts."
According to The Hill, the letter is dated July 13.
The public seems to be divided over this issue.
According to a poll from Monmouth University released on Monday, July 17, 39 percent of Americans believe Kushner should resign due to the scandal over the meeting with the Russian lawyer.
Meanwhile, 22 percent believe he should resign but keep his security clearance, while 31 percent believe he should be able to keep his position and his security clearance.
Will Kushner actually lose his security clearance, and what would that mean for him and the Trump administration?
At the moment, Kushner has interim security clearance. On June 23, he met with the FBI to discuss gaining permanent security clearance.
At the end of the day, the FBI doesn't make a decision on who gains security clearance, it just runs an investigation into the applicant and reports what it finds to the White House.
According to CNN, presidents typically don't get directly involved in this process.
But, given the situation, Trump could potentially intervene, and he has the power to reverse a decision made by White House staff on Kushner's security clearance.
If Kushner was to lose his security clearance, he'd still be able to work at the White House, but it would place severe limitations on his role and he wouldn't enjoy the same freedoms and power he currently has.
Not to mention, it would be extremely embarrassing for the Trump administration, which has already been accused of nepotism for placing Kushner in such a high position in the first place.