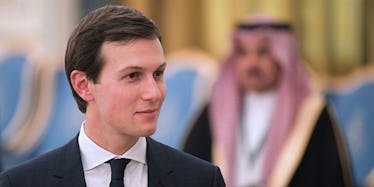 No One Holds Back About Jared Kushner's Alleged Secret Channel To Talk To Russia
Getty Images
Jared Kushner, son-in-law and senior adviser to President Donald Trump, has undergone plenty of scrutiny — especially on Friday night.
According to reports from The Washington Post on May 26, Kushner allegedly spoke with Russia's ambassador to the United States, Sergey I. Kislyak, in December.
Their alleged meeting was to supposedly establish a secret communications channel between Trump's transition team and Moscow in an effort to discuss policy issues, particularly in regards to Syria.
According to The New York Times, the three anonymous sources who spoke about the alleged post-election meeting were not authorized to do so.
The Times and The Post further claimed that President Trump's short-lived national security adviser, Michael Flynn, was also in attendance, and it is not clear who initiated the meeting. The channel was never set up, according to The Times.
Naturally, this opened up the floodgate for Americans, particularly those with an active voice on social media.
We heard from politicians like Rep. Maxine Waters.
She didn't seem all that surprised with the reports.
Aspiring politics chimed in as well.
Levin is running for Congress vs. Darrell Issa in California.
People tried to provide comedic relief...
...while others showed no mercy.
Reporters added their own commentary.
Even celebrities took a jab at Kushner.
Anna Kendrick received thousands of retweets and likes for her Kushner meme.
According to CBS News, White House officials are allegedly refusing to comment on the reports that surfaced from The Washington Post last night.
In the meantime, President Trump has announced that he will delay his decision to next week on whether the US will withdraw from the Paris climate accords — which he announced on Twitter.
As of 3:10 pm EST on Saturday, Trump has not released any statements on Twitter regarding his son-in-law.
Elite Daily has reached out to Kushner's attorney Jamie Gorelick for comment.
Citations: Kushner Is Said to Have Discussed a Secret Channel to Talk to Russia (The New York Times), Russian ambassador told Moscow that Kushner wanted secret communications channel with Kremlin (The Washington Post), Trump delays decision on Paris climate agreement at G7 summit (CBS News)