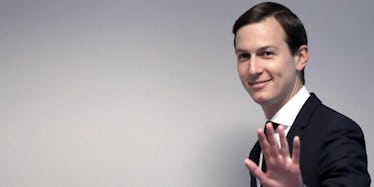 Jared Kushner Speaks After Senate Testimony: "It Was Great"
Win McNamee/Getty Images
On Monday, July 24, White House Senior Adviser Jared Kushner testified before the Senate Intelligence Committee. It was a private testimony.
Prior to the closed-door questioning, Kushner made his prepared remarks public and vehemently denied any collusion with the Russian government during the 2016 U.S. presidential campaign.
As Kushner exited the meeting with the Senate Intelligence Committee, he told Daily Beast reporter Andrew Desiderio, "It was great."
Kushner gave full remarks on the closed-door hearing at the White House.
While speaking outside the White House, Kushner said, "Let me be very clear: I did not collude with Russia nor do I know of anyone else in the campaign who did so," BBC News reports.
Kushner, who's the president's son-in-law, also said he's been "fully transparent."
Kushner has come under scrutiny recently in relation to a controversial meeting he attended with a Russian lawyer linked to the Kremlin during the 2016 U.S. presidential campaign.
Donald Trump Jr., the president's oldest son, and Paul Manafort, who served as Donald Trump Sr.'s campaign chair at the time, were also in attendance.
On July 11, Trump Jr. released emails that led up to the meeting that revealed he entered it under the impression he was being offered damaging information about former Secretary of State Hillary Clinton that would aid his father's campaign.
The emails also claimed the information was being provided by the Russian government as part of a broader effort to bolster Trump's candidacy.
In the prepared remarks Kushner made public before the hearing on Monday, July 24, he downplayed his role in the meeting. Kushner also claimed he didn't know about the potential to gain damaging info about Clinton under his lawyers showed him Trump Jr.'s emails.
Relatedly, Kushner has been scrutinized for omitting foreign contacts from his SF-86 form -- the document federal employees must fill out to gain security clearance. He's now amended his form three times to disclose these contacts, including the meeting with the Russian lawyer.
Given this, and the fact Kushner allegedly attempted to set up a secret communications channel between the Trump transition team and the Russian government, many are suspicious of Kushner.
The nature of Kushner's testimony on Monday, July 24, has come under fire.
Kushner was not under oath during his private testimony before the Senate Intelligence Committee, which means he would not be charged with perjury if he lied or spoke falsely.
As a result, some are now calling for Kushner to give a public testimony under oath. Whether or not this will occur remains to be seen.
Elite Daily reached out to the White House for comment from Donald and Ivanka Trump, but hadn't heard back at the time of publishing.