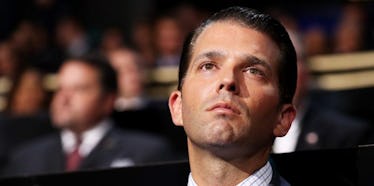 Donald Trump Jr. And Jared Kushner Will Testify After Russian Lawyer Meeting
John Moore/Getty Images
The Trump family and associates' meeting with a Russian government-associated lawyer can't be swept under the rug.
On Wednesday evening, news broke in short order that all three members of President Donald Trump's presidential campaign who met with the Kremlin-associated lawyer — his eldest son Donald Trump Jr, his son-in-law Jared Kushner, and his campaign chair Paul Manafort — will testify before the Senate. Kushner will appear before the Senate Intelligence Committee on Monday, July 24, and Trump Jr. and Manafort have been called to appear before the Senate Judiciary Committee on Wednesday, July 26, according to CNN.
Kushner's testimony is expected to be behind closed doors — but Trump Jr. and Manafort are expected to speak publicly, according to USA Today.
Veselnitskaya, who is believed to be associated with the Russian government, was joined by a Russian-American lobbyist who is a former Soviet counter-intelligence officer, Rinat Akhmetshin, and a Soviet-born financier, Irakly Kaveladze, who reportedly moved hundreds of millions of dollars overseas for Russian clients.
The meeting was originally portrayed as being "primarily" about adoption, but was later revealed to have been scheduled in response to an offer of damning information on campaign opponent Hillary Clinton. On July 11, Trump Jr. released the entire email chain organizing the meeting via Twitter.
It's just another piece of the ongoing question of just how much Russia meddled in the 2016 presidential election — and who was involved.
Special Counsel Robert Mueller is overseeing an investigation into Russia's meddling, including any possible collusion between Russia and members of the Trump campaign. Multiple U.S. intelligence agencies have agreed that Russian involvement is more or less a certainty. The June 2016 meeting so far appears to be the most solid link between Russia and high-level members of the Trump campaign.
Trump Jr has thus far seemed unconcerned about the scandal.
After releasing the email chain, Trump Jr offered publicly to testify before the Senate under oath. In a July 11 interview with Sean Hannity, he said that he would answer all questions.
Hannity: That means you'll testify under oath, all of that? Trump: All of it.
Looks like he'll get his chance.