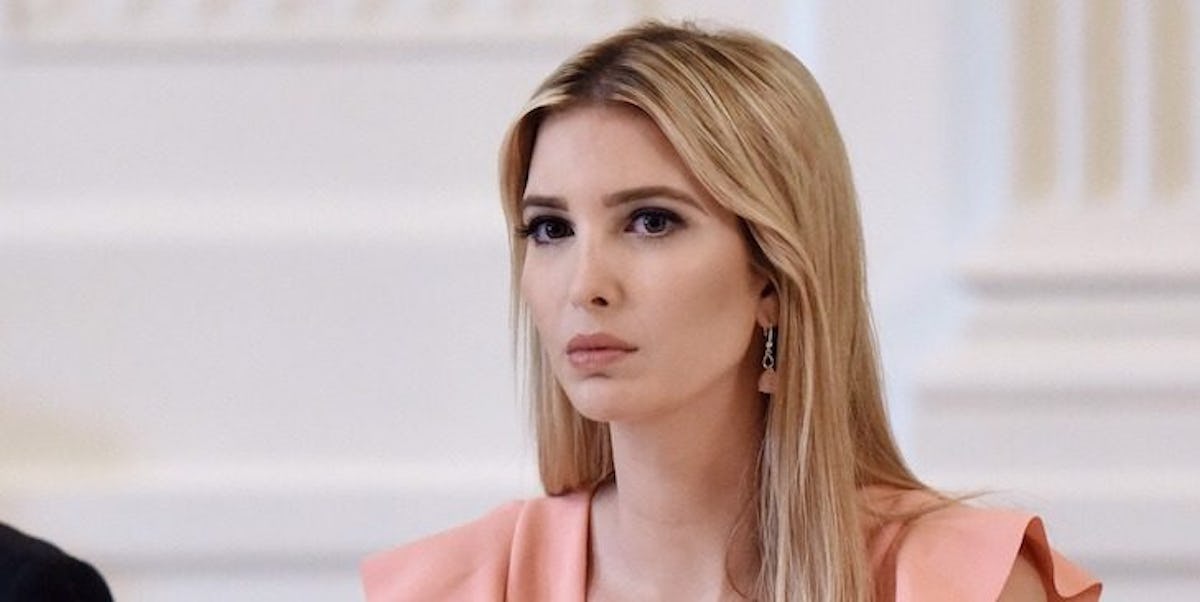 Ivanka Trump Posted A "Despacito" IG While Everyone Else Was Tweeting John McCain
Olivier Douliery-Pool/Getty Images
While everybody else was tweeting out messages of support and sympathy to Arizona Senator John McCain, whose brain cancer diagnosis was announced on July 19, Ivanka Trump was apparently having an after-work dance party, according to her social media.
The first daughter posted an (admittedly pretty charming) video to her Instagram on Wednesday night. Captioned, "Nothing better than a post work dance party," the video shows Trump's two rather impeccably coiffed older children, Arabella and Joseph, dancing around the living room to the hit song "Despacito."
Cute! (Although I'm really curious to know what the Trump-Kushner family is up to on a Wednesday night that they have their 3-and-a-half year old dressed in a tucked-in button-up and belt.)
Except — it was a little out of place, considering what the rest of the internet was talking about.
Trump posted her family video a few hours after McCain's office announced that the senator had been diagnosed with glioblastoma, an aggressive type of brain cancer. Within minutes of the announcement, social media was blowing up with reactions from friends, family members, and colleagues, all expressing their dismay and support.
Pretty much everyone in the political world weighed in — from McCain's political allies to his sometimes-opponents.
President Donald Trump — who has had a notably rocky relationship with McCain — released a statement almost two hours after the announcement, first via the White House website and then through his favored social media channel.
But from Ivanka Trump, silence.
Now, I get it. Social media can be hard to keep up with, particularly when you've got three kids — there's a lot happening, it never stops. But considering that Trump has very clearly stepped into the role of a public political figure (and on the world stage to boot), the timing of her cheery video, posted as the rest of the political world expresses their condolences, seems a little off.
The family themes are especially stark when compared to the message tweeted out by Sen. McCain's daughter Meghan shortly after his diagnosis was announced.
In her statement, the younger McCain wrote,
If we could ask anything of anyone now, it would be the prayers of those of you who understand this all too well. We would be so grateful for them.
From the looks of Twitter, there are plenty of prayers coming his way.