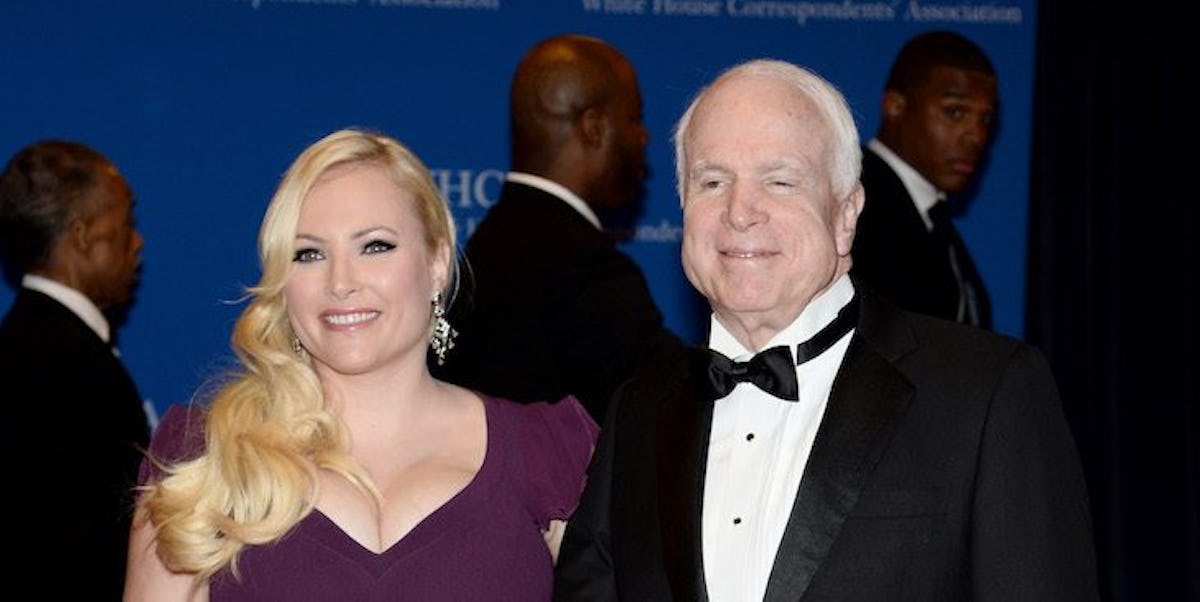 Meghan McCain's Tweet About Her Father's Brain Cancer Diagnosis Is Heartbreaking
Dimitrios Kambouris/Getty Images
After it was reported on Wednesday evening that Arizona Senator John McCain had been diagnosed with an aggressive form of brain cancer, the expressions of sympathy came fast. From colleagues, friends, and family, everybody was heartbroken to hear about the diagnosis.
But one message was very close to home. McCain's daughter Meghan McCain, released a heartbreaking message via Twitter shortly after the senator's condition was made public.
In it, she says that her father's diagnosis has affected "every one of" her family members.
My grandmother, mother, brothers, sister, and I have all endured the shock of the news, and now we live with the anxiety about what comes next.
She notes that, tragically, it's not an unfamiliar experience for the family.
Sen. McCain, 80, has already battled cancer a few times. He was previously diagnosed with melanoma on several occasions, including a mole removed from his shoulder in 1993 and a Stage IIa tumor removed in 2000. The most recent diagnosis is of glioblastoma, an aggressive type of brain cancer, according to The Washington Post. 
But, McCain says, cancer won't break her father. Nothing ever has.
He is the toughest person I know. The cruelest enemy could not break him. The aggressions of political life could not bend him. So he is meeting this challenge as he has every other. Cancer may afflict him in many ways: but it will not make him surrender. Nothing ever has.
It's a sentiment echoed by many of his political colleagues, including some-time opponents.
Former presidential opponent Barack Obama tweeted out his sympathies on Wednesday night, calling McCain "one of the bravest fighters I've ever known."
So too did Hillary Clinton, who was a rival figure during the 2008 presidential election, before the nomination went to Obama.
The messages were often simple and heartfelt.
In the toughest of times, having loved ones — family and friends — to support us can make all the difference to how we take on adversity.
McCain finished her statement by talking about what her father means to her.
My love for my father is boundless, and like any daughter I cannot and do not wish to be in a world without him. I have faith that those days remain far away… he is my strength, my example, my refuge, my confidante, my teacher, my rock, my hero — my dad.