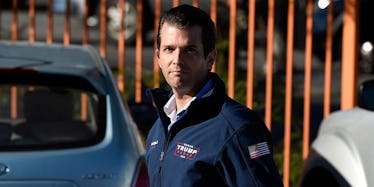 Donald Trump Jr. Is In Trouble And Everyone's Making The Same Joke
David Becker/Getty Images
Donald Trump Jr. is in trouble, and some people really seem to be enjoying that fact.
On Saturday, July 8, The New York Times reported he'd met with a Kremlin-linked lawyer during the 2016 U.S. presidential campaign.
Trump Jr. was joined at this meeting by then-campaign chair Paul Manafort and Jared Kushner, Donald Trump Sr.'s son-in-law and now White House senior advisor.
Trump Jr. claimed they discussed a program involving Russian adoption during this meeting.
Subsequently, however, it was reported Trump Jr. had accepted the meeting after being offered damaging information about former Secretary of State Hillary Clinton that could help his father's campaign.
Then, on Monday, July 10, The New York Times reported Trump Jr. had received an email prior to this meeting that said the information the lawyer was willing to offer was part of the Russian government's effort to help his father and hurt Clinton.
Shorter version: Trump Jr. allegedly walked into this meeting believing a foreign government was trying to give him information that could tip the scales of a presidential election.
The Trump campaign/administration has been scrutinized for quite some time now in terms of its alleged collusion with Russian interference in the presidential election, and this is arguably the biggest development so far.
The steady escalation of this story has sent shockwaves through the political world, and Trump Jr. has been put on the defensive (bigly). His justification for the meeting has been extremely inconsistent, and some have suggested he committed a crime.
You might recall that Hillary Clinton's use of a private email server was one of the biggest talking points of the campaign season.
Given this, the news about this dubious email Trump Jr. allegedly received, and suspicions surrounding the Trump campaign's links to Russia, many are roasting the president's son using the same joke.
"But his emails..."
During the presidential campaign, it often seemed the only response Donald Trump and his supporters had when he was criticized was, "But her emails..."
They might not have always used that exact phrasing ("lock her up" was probably more popular), but it was the same general idea.
It was as if they believed any wrong Trump committed was instantly forgiven because Clinton used a private email server.
After the news broke about this email Trump Jr. supposedly received, people flipped this around on him with, "But his emails..."
What goes around, comes around?