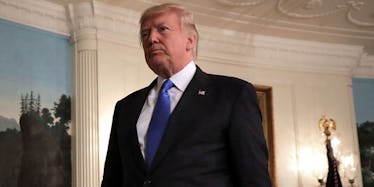 What The FBI's Investigation Of Trump Means For The Chances Of Impeachment
Chip Somodevilla/Getty Images
First, the basics.
According to the Washington Post, Robert Mueller, the special counsel leading the FBI's Russia Investigation, is now examining whether President Donald Trump committed obstruction of justice.
Mueller is expected to interview top intelligence officials to examine whether Trump tried to influence or push for a shut down of the Russia investigation altogether -- i.e., obstruct justice.
That fact is noteworthy, in part, because obstruction of justice is the exact charge Democrats have looked likely to pursue in any future attempt to impeach the president.
The impeachment question.
So, the news now begs the question: What does all of this mean for the question of how likely, or unlikely, Trump is to be impeached?
The answer: We'll know, eventually.
As the Post's report mentions, members of Congress will have reason to review the findings of Mueller's obstruction of justice probe once it's done and then decide whether the findings provide a basis for impeachment.
If Mueller finds that Trump did not act improperly, Trump supporters will likely will vindicated.
If Mueller finds that the president did make repeated attempts to obstruct justice, Trump's detractors will likely feel motivated, specifically to pursue impeachment.
One way or another, news that Mueller has a specific focus on the subject of obstruction of justice suggests he'll get answers.
We'll could find about more along the way.
After Mueller was appointed by the Justice Department as special counsel, there was a suggestion that one change could be expected.
Unlike like the investigation that was led by director Comey, Mueller's investigation would be airtight and have no leaks.
Wednesday's leak proved otherwise, however.
So the idea that other significant developments in the investigation would be leaked is not exactly outside the realm of possibility.
That point is important to remember when it comes to predicting whether Democrats will tone down, or increase their talk or increase their talk of impeachment.
If another leak occurred, and it suggested more inappropriate activity on the part of Trump, some Democrats could use the leak as motivation to call for removing the president, which is exactly what a few did after Trump fired Comey.
What's the end game?
Fundamental reality when it comes to the subject of impeachment is that it is totally unrealistic, for now. That's because of the number of Congressmen and women necessary to impeach a president, which Democrats simply do not have.
Democrats are hoping the numbers will change next year, however. And as the 2018 elections draw closer, they could dangle the prospect of impeaching Trump as an appeal to attract voters.
Their ability to do so will likely be impacted by what Mueller finds during his examination of whether Trump obstructed justice.
If Mueller finds unflattering information about the president, the possibility he will be impeached will likely increase, particularly because support for Democrats in a mid-term election would increase.
If Mueller doesn't however, it will be no surprise if talk of impeachment dies down.