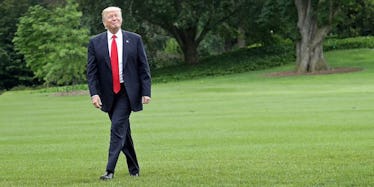 People Think Donald Trump Did This Crime, Which Could Get Him Impeached
Win McNamee/Getty Images
After President Donald Trump's controversial dismissal of FBI Director James Comey, there has been a lot of discussion on the topic of obstruction of justice.
Some have blatantly accused Trump of committing obstruction of justice, and have called for his impeachment.
Comey testified before the Senate Intelligence Committee on Thursday.
The former FBI director released his opening statement the day prior, which outlined a number of conversations he had with President Trump.
In one of those alleged conversations, Trump demanded Comey's loyalty, which is an odd thing for a president to do given the FBI is meant to be an independent and extremely impartial institution.
At another point, Trump supposedly told Comey he hoped he would consider dropping the investigation into former National Security Adviser Michael Flynn.
What's more, Trump also allegedly asked Comey how they could "lift the cloud" on the Russia investigation.
Comey did not drop these investigations. Subsequently, he was fired.
The Trump administration's justification for dismissing Comey has been inconsistent from the start, and alleged statements from the president suggest Comey's firing was due to the fact he wouldn't drop the Russia investigation.
Some legal experts have contended what Trump did constitutes obstruction of justice, but what does that mean?
Obstruction of justice is a federal offense, and occurs when the government establishes an individual "corruptly endeavored to influence, obstruct, or impede the due and proper administration of the law," according to the U.S. Department of Justice.
A more blatant example of obstruction of justice would be killing a witness or destroying evidence, but it's a very broadly defined crime.
You don't actually have to succeed at obstructing justice to be guilty of it.
As Joshua Dressler, a law professor at Ohio State University, told Vox,
It requires proof that the person corruptly or by threat influences, impedes, or endeavors to influence or impede the due administration of justice. It doesn't require proof that justice was obstructed — only that the person endeavored to influence or impede justice.
In order for obstruction of justice to occur, per the U.S. Department of Justice definition, there has to be corrupt intent.
As Andrew McCarthy, a former federal prosecutor, explained to CNN, "That means you not only have to prove that the person knew what he was doing was unlawful, but that he acted with a specific purpose to undermine a proceeding."
With that said, it's still not entirely clear whether what Trump allegedly did unequivocally constitutes obstruction of justice. There's still an open debate on that.
But it would arguably behoove Trump to get a really good lawyer.