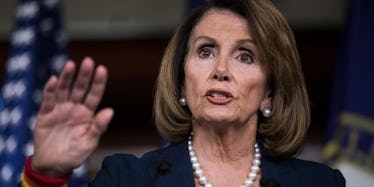 Trump Will "Self-Impeach" Over Russia Investigation, Leading Democrat Says
Drew Angerer/Getty Images
House minority leader Nancy Pelosi cited a simple reason why Democrats should stop trying to impeach Donald Trump: the president will eventually do it himself.
According to Politico, Rep. Pelosi made the appeal during a closed-door meeting on Tuesday, during which she told her fellow colleagues,
It's a big deal to talk about impeachment. I think he's going to self-impeach.
The goal of the meeting was to discourage House Democrats from speaking publicly about the prospect of impeaching the president, Politico reports.
Meanwhile, the "self-impeachment" remark was a clear suggestion that Pelosi believes the president will eventually commit an act so egregious, Republicans will be prompted to join a pro-impeachment stance.
Pelosi's comment came on a day that the first tangible step necessary to pursue impeachment was taken by a fellow California Democrat, Rep. Brad Sherman.
On Tuesday, Sherman began circulating a draft for an article of impeachment, which proposes a charge to bring against the president.
In addition, Texan Rep. Al Green called for the impeachment of President Trump last month, while speaking on the House floor.
Both Sherman and Green made these aggressive moves despite the challenging reality facing pro-impeachment politicians: The House, where all impeachment processes begin, is by far a majority Republican chamber.
Add in the fact that, despite his general approval rating, Trump still holds an approval rating higher than 80 percent with Republicans, and it becomes clear why the chances of any Republican turning against the leader of their party are slim.
However, Pelosi urged Democrats to wait for the results of all investigations before discussing the prospect of removing the president.
The leading Democrat also suggested Trump would force Republicans' hands if the president were to fire former FBI Director Robert Mueller, who was hired by the Department of Justice as a special counsel to preside over the investigation into potential ties between Russia and Trump's campaign.
On Tuesday, the New York Times reported the president had considered firing the special counsel before aides convinced him not to.
Should Trump proceed with the hiring in the near future, however, it could be the act that pushes Republicans to call for impeachment along with Democrats.
Until such an event happens (if at all) Democrats shouldn't even bother trying to impeach Donald Trump. At least, that's what Nancy Pelosi says.