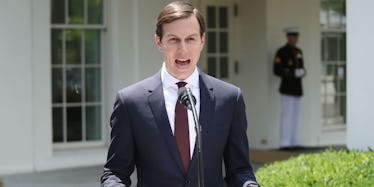 Democrats Say Kushner Is "Unfit" For White House And Call For Him To Be Fired
Mark Wilson/Getty Images
The hits just keep on coming for White House Senior Adviser Jared Kushner, who's been under increased scrutiny recently in relation to the Russia investigation. A group of House Democrats are reportedly calling for Kushner to be fired in a letter they intend to send to President Donald Trump, The Hill reports. So far, the letter reportedly has nine signatures.
In a draft of the letter obtained by The Hill, Kushner is described as "plainly unfit for the highly influential position he currently occupies."
The letter calls for Kushner's immediate dismissal.
Rep. Ruben Gallego of Arizona and Rep. Ted Lieu of California are reportedly spearheading the effort.
This news comes not long after Kushner delivered a private testimony on his contacts with Russians to the Senate Intelligence Committee on July 24. Kushner was not under oath during the closed-door meeting, which drew outcry from many Democrats.
After the meeting, Kushner spoke at the White House and was vehement in stating he did not collude with Russia and didn't know of anyone else in the Trump campaign who did.
Donald Trump Jr., the president's son, and Paul Manafort, who was the Trump's campaign chair at the time, were also at the meeting.
Trump Jr. released emails on July 11 that revealed he'd attended the meeting under the impression he was being offered information that would be damaging to Hillary Clinton and help his father's campaign. The emails also showed that Trump Jr. was told this info was provided by the Russian government as part of a larger effort to aid his father's candidacy.
Kushner failed to disclose this meeting on his SF-86 -- the security clearance form federal employees must fill out to gain security clearance.
He was required to list all foreign contacts he's had in the past seven years, but initially omitted them. Kushner has now amended his form three times.
Kushner also allegedly attempted to set up a secret communications channel between the Trump transition team and the Russian government, an unusual move that drew widespread criticism.
Kushner claims he didn't know about the context of the meeting with the Russian lawyer when he went, and did his best to get out of it immediately.
But Democrats have been pretty persistent in going after Kushner. Some have called for his security clearance to be revoked, while others have suggested Kushner resign. So, this call for Kushner to be fired is really part of a growing trend.