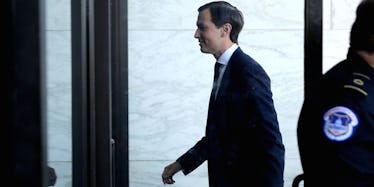 All The Best Tweets And Memes About Jared Kushner's Senate Russia Testimony
Chip Somodevilla / Getty Images
On Monday, July 24, following a two-hour closed-door session with the Senate Intelligence Committee, Jared Kushner spoke, and Twitter is all over it.
That Kushner spoke publicly at all should be enough to break the internet, because President Donald Trump's son-in-law is notoriously press-shy and steers clear of the media.
Kushner briefly commented to reporters after leaving the testimony and gave a formal statement at the White House.
Of course, we're all becoming immune to the unique brand of whiplash the Trump administration keeps serving up, but Kushner's statement was more anticipated because it came on the heels of a testimony as part of an investigation into the Russian meddling in the presidential election and the connections with his father-in-law's campaign.
Elite Daily reached out to the White House for comment from Donald and Ivanka Trump, but hadn't heard back at the time of publishing.
After the morning Kushner's had, people couldn't wait to hear what he had to say.
The fact that Kushner so seldom makes any public statements made Monday's announcement its own kind of newsworthy event.
According to Mark Knoller, a White House correspondent for CBS News, the set-up for Monday's statement wasn't your run-of-the-mill thing.
Peter Baker and Julie Davis, both reporters for the New York Times, also referenced the special circumstances of Kushner's statement in their respective tweets below. The remarks, Davis notes, signal an official statement.
In his opening remarks before the West Wing of the White House at about 1:15 p.m. ET, Kushner introduced himself, and that alone was enough to draw humor.
The speech was arguably not the best that's ever come from a White House podium. Twitter didn't miss the opportunity to poke fun at either Kushner's content or his delivery.
The Young Democrats of America, for example, referenced Scandal's Olivia Pope in throwing shade at Kushner.
Another user -- one of many -- commented on how Kushner's delivery left something to be desired.
If his tone of voice wasn't enough, his facial expression certainly didn't seem to help him appear at ease at the podium.
Kushner also drew criticism for failing to answer any questions at the end of his statement.
While people are busy reacting to his Monday statement, plenty are speculating about what was said during the session behind closed doors, and what will follow in Tuesday's appearance with the House Intelligence Committee.