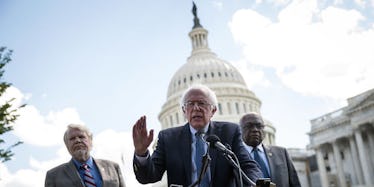 Bernie Said "Thousands" Will Die With GOP Health Care, And Research Agrees
Drew Angerer/Getty Images
Senator Bernie Sanders has made it no secret how he feels about how Republicans in Congress are currently approaching health care.
Republicans in the House and Senate have each introduced health care bills, neither of which are very different from one another (in spite of having different names).
For context, the American Health Care Act (AHCA) is the Republican health care bill that passed in the House in early May.
Subsequently, Senate Republicans drafted their own version (in secret), known as the Better Care Reconciliation Act of 2017, which was released on June 22.
Sanders is vehemently opposed to either version.
He recently tweeted: "Let us be clear and this is not trying to be overly dramatic: Thousands of people will die if the Republican health care bill becomes law."
Sanders reiterated this argument Sunday on NBC's Meet The Press, when he stated,
When you throw 23 million people off of health insurance — people with cancer, people with heart disease, people with diabetes -- thousands of people will die ... This is study after study making this point.
Louis Jacobson of PolitiFact reviewed Sanders' claims, and ultimately found them to be "mostly true."
There is plenty of academic literature, which Jacobson reviewed, to back up the notion that legislation such as that pushed by Republicans in the House and Senate would lead to "thousands" of additional deaths.
In other words, there are studies that back up what Sanders has said about the Republican approach to health care.
But it's hard to provide an exact number in terms of how many people could die.
The studies Jacobson reviewed provided estimates, and each one "found a slightly different result."
Jacobson reached out to Sanders' office about his remarks, and it cited two sources.
One of the studies, published by the Center for American Progress on June 22 projected "there would be one excess death for every 830 people who lose coverage as a result of the AHCA."
Overall, the authors estimated an additional 217,000 deaths over the next decade, starting at 16,900 deaths in 2018 and increasing each year through 2026.
The study was co-authored by a Harvard professor of social epidemiology, two medical students who graduated from Harvard's T.H. Chan School of Public Health, and two policy specialists at the Center for American Progress.
The Congressional Budget Office projected both the House and Senate Republican health care bills would lead millions to lose health care over the course of the next decade.
The House version of the bill, the AHCA, was deemed too extreme by its critics for the number of people who would lose health insurance, as well as the massive cuts to Medicaid, the federal health care program for low-income individuals.
Even President Donald Trump referred to AHCA as "mean."
Then came the Senate version, which some hoped would be less harsh on low-income and sick Americans.
But on Monday, the Congressional Budget Office (CBO) released a report that projected 22 million Americans would lose health insurance by 2026 under the Senate GOP health care bill.
The CBO also projected Medicaid would be cut by $772 billion over the course of 10 years under the Republican health care plan.
In addition to the sources provided by Sanders, Jacobson highlighted seven additional academic studies that showed a link between securing health insurance and a decline in deaths.
Long story short, health care really is a life or death issue, and helping people gain access to health insurance saves lives.
It's not unreasonable or overdramatic for Sanders to say "thousands will die" if millions were to lose health insurance. It's the frightening reality.
So perhaps Republicans shouldn't be surprised a new poll shows only 17 percent of Americans support the Senate health care bill, presumably because they'd like to keep living.
Senate Majority Leader Mitch McConnell hoped to push for a vote on the health care bill this week, but due to concerns over its impact and its unpopularity, the vote has been delayed until after the July 4 recess.