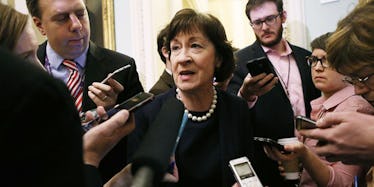 A Female Republican Senator Is Opposing The GOP Healthcare Bill, Here's Why
Mario Tama/Getty Images
On the night of Monday, June 26, Senator Susan Collins put it on the record on the Better Care Reconciliation Act (BCRA).
The Republican senator from Maine made public her intentions to impede the healthcare bill that GOP leaders have proposed to replace the Affordable Care Act (aka Obamacare).
Collins voiced her opinion in a series of tweets.
Here's what this means.
Since the day Senate Majority Leader Mitch McConnell unveiled details of the bill last week, both Collins and fellow Republican Senator Lisa Murkowski seemed likely to fight against it.
In other words, Collins' opposition to the bill is not at all surprising, but it is still significant.
Because the 64-year-old has voiced her intention to vote no on "MTP" -- or, "motion to proceed," which is essentially the vote that triggers the actual vote on the bill -- it's now clear that the BCRA does not have enough Republican support to pass through the Senate.
Because of Republicans' narrow 52-48 majority in the Senate, the BCRA could only afford to lose two votes among GOP senators, since a 50-50 split would be broken by Vice President Mike Pence.
Collins' opposition means "Trumpcare" has exhausted its room for error.
And here's why she's doing it.
In her series of tweets, Collins cited the Congressional Budget Office's analysis of the Senate healthcare bill.
The analysis stated 22 million more people would be uninsured by the year 2026 if the BCRA became law, while the cost of premiums would increase in the next few years, before falling afterwards.
Even before the release of the CBO score, the prospect of Collins supporting the bill was far from a guarantee despite her party alliance.
The Maine senator had already been a critic of the secret process under which the bill was written.
In addition, in the past, she has raised concerns about the defunding of Planned Parenthood, which would happen for a year if the BCRA passes. The CBO estimates that would lead to thousands of more births in the Medicaid program.
Collins told ABC News last month,
I don't think low-income women should be denied their choice of health care providers, for family planning, cancer screenings, for well-women care. It's not fair and it is a mistake to defund Planned Parenthood.
Monday night made things clear. Collins went from likely opponent to official opponent of the GOP healthcare bill. That means the healthcare debate looks likely to take a twist -- again.