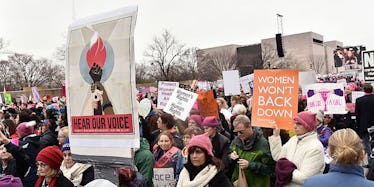 This Is What AN OBGYN Thinks About The Senate's Health Care Plan
Mike Coppola/Getty Images
The Senate's Better Care Reconciliation Act (BCRA), released Thursday, June 22, as the counterpart to the House's American Health Care Act (AHCA), has drawn rebuke from many corners of the country.
But one in particular are concerned: physicians.
Dr. Kristyn Brandi, member of Physicians for Reproductive Health and an OB/GYN, says this bill is one of the worst for women in a long time.
While the bill proposed Thursday doesn't exactly dismantle the contraceptive care benefits laid out under the Affordable Care Act (ACA, aka Obamacare), the bill axes many Medicaid protections, meaning that many people covered under Medicaid are now at risk of losing their contraceptive care. The bill also gets rid of essential health benefits, which takes away guaranteed contraceptive coverage.
Also under the Senate's bill, Planned Parenthood will be defunded for one year. This would cut off a major resource for many women.
Many of Brandi's patients would be affected by Senate's healthcare bill. She tells me,
A lot of my patients are Medicaid recipients. So the increase of coverage of the Medicaid expansion, I've been seeing more and more patients that I may have missed because they wouldn't have been able to afford coverage either through their job or privately. I'm worried that a lot of my patients are going to left without coverage.
The cost of an intrauterine device (IUD) might be up to $1,000 out of pocket, according to Planned Parenthood. Without coverage, patients often have to choose between paying the rent and buying birth control, Brandi says,
For these longer-acting forms of birth control, they cost several hundred dollars out of pocket, so it wouldn't even be reasonable to think that some patients that could afford that.
Largely because of these prohibitive costs, the Senate's healthcare bill would change how Brandi counsels her patients. Long-term and permanent (and more effective) forms of birth control might not even be an option on the table. Brandi explains,
Usually when I talk about birth control, I talk about all the methods and how they fit into her lifestyle. ... I never really have to talk about, 'Will you be able to afford it.'
Reproductive healthcare is not just important for preventing pregnancy; it covers measures to screen and protect against against sexually transmitted infections and other conditions. Birth control is often prescribed for menstrual conditions such as uterine fibroids, or endometriosis, a painful menstrual condition.
For example, endometriosis, a painful menstrual condition, is often treated by using standard birth control pills.
The bill represents a public health concern, as reproductive healthcare is also key in preventing and screening for transmittable and life-threatening issues like HPV, cervical cancer, and HIV. (Fun fact: women of color are more likely to have cervical cancer, a recent study shows.)
Brandi is worried about the implications for these screenings. She says,
I think a lot of women are going to choose to present only when they're really sick. … Instead of getting a pap smear and finding a cancer early, we're gonna start seeing people that end up with stage 4 cervical cancer because they just couldn't afford to seek care earlier.
Unintended pregnancy has been on the decline, and Brandi says that's at risk of being undone. The bill will even affect maternity care, which is no longer a guaranteed covered benefit under the Senate bill.
Brandi is encouraged by seeing people attend town hall events, advocating and speaking up on how the bill will impact them personally. For her, that's the way forward. She says,
This type of bill affects people's live, it affects everyone that's vulnerable... We need to make our voices heard and recommend against this bill.