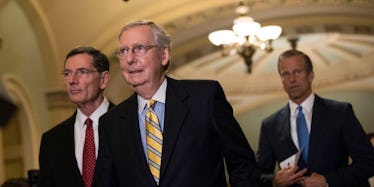 The GOP Health Care Vote Just Got Delayed, So Call Your Senator ASAP
Drew Angerer/Getty Images
Lacking the necessary votes to see it passed, Senate Republicans have decided to delay a vote on their health care bill, known as the Better Care Reconciliation Act of 2017, the Associated Press reported on Tuesday.
The bill, which is part of the long GOP effort to repeal and replace the Affordable Care Act (aka the ACA or Obamacare), was controversially drafted in secret by a select group of Republicans.
A draft of the bill was released on June 22, which led to immediate, widespread condemnation due to the major cuts it would make to Medicaid, the federal health care program for the poor, and the massive tax cuts it includes for the wealthy.
In short, many saw it as a bill that would rob from the poor and give to the rich.
On Monday, June 26, the Congressional Budget Office (CBO) released a report projecting the impact of the bill on health care in the U.S., and it was not pretty.
The CBO report projected 22 million Americans would lose health insurance by 2026 under the Senate health care bill, and found the bill would slash Medicaid by $772 billion over the next decade.
To put this into perspective: Roughly 20 percent of all Americans rely on Medicaid, including over a third of the nation's children.
In the wake of the CBO score, five Republican senators -- Senators Susan Collins of Maine, Rand Paul of Kentucky, Dean Heller of Nevada, Mike Lee of Utah, and Ron Johnson of Wisconsin -- announced they would not vote for the bill in its current form.
Senate Majority Leader Mitch McConnell was hoping to push for a vote on the bill by the end of the week, before the July 4 recess.
But, he could only afford to lose two votes, and he'd lost five.
This is what ultimately led McConnell to announce the vote will be delayed until after the July 4 recess. The Senate will be back in session on July 10, but that doesn't necessarily mean a vote will occur that day.
While this is certainly a blow to Republican efforts to repeal and replace Obamacare, which saw approximately 20 million Americans gain health insurance in roughly six to seven years, it doesn't mean they'll give up.
According to CNN, McConnell wants to make changes to the bill and get a new CBO score before holding a vote.
McConnell says they are "still working toward getting at least 50 people in a comfortable place."
If you're worried about health care in the U.S., you now have more time to make sure your voice is heard.
Health care literally pertains to matters of life and death, so this is an extremely vital issue.
The GOP health care bill could have a detrimental impact on millions of lives in many different ways, as the CBO report revealed. The bill is particularly harsh on low-income Americans, many of whom rely on Medicaid for coverage. Meanwhile, the bill also defunds Planned Parenthood for a year, which will make it far more difficult for many people to take care of their reproductive and sexual help.
Not to mention, a majority of Medicaid beneficiaries are women (53 percent).
Simply put, between defunding Planned Parenthood and cutting Medicaid, this bill is awful for women in particular.
If you want to do something about this, you can always call your senator to make sure they know exactly how you feel about the bill and its projected impact on Americans.
Click here for a complete list of U.S. senators and their contact info.