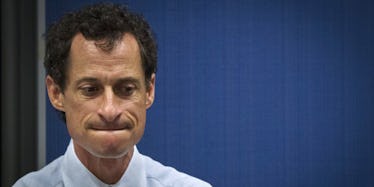 Anthony Weiner Just Checked Into Rehab For Sex Addiction And It's About Time
REUTERS
Anthony Weiner – aka America's creepiest ex-politician – checked into a rehab facility for sexual addiction, Daily Mail reports.
He will reportedly receive counseling for addiction to cybersex and exhibitionism, as well as addiction to anonymous sex and porn.
The disgraced congressman has been at the center of a number of sexting scandals, which became a topic of discussion (once again) last week after the FBI announced it reopened the investigation surrounding Hillary Clinton's private email server.
This was a bombshell announcement to make with less than two weeks to go for the election.
But it wasn't long before it was revealed the investigation was linked back to Weiner's sex addiction, which once again had much of the country disgusted with this man's behavior.
This election cycle will have to go down as the most unpredictable one in US history. It's often felt like the plot to a poorly-written movie script.
We are literally trapped in the worst, most depressing political thriller of all time.
Is this real life?
Vice President Joe Biden arguably had the best reaction to the news about Weiner's sex addiction and its links to Hillary's private email server.
Some people are clearly tired of seeing Hillary Clinton's political career jeopardized by the abhorrent behavior of men.
This computer was also reportedly used by Weiner's estranged wife, Huma Abedin: Hillary Clinton's top aide.
Abedin and Weiner separated in August after it was revealed Weiner sent explicit photos to another woman with his 5-year-old son in the background.
Weiner attempted to revive his political career after past sexting scandals, but failed in the process.
It now seems he's getting the help he so obviously needs. This was long overdue.
Electronic devices are apparently banned at the facility Weiner has checked into, and patients are separated by gender.
So, maybe he'll finally be able to stay out of trouble there? Only time will tell.
But if the past is any indication, it's hard to believe this is the last we will hear of Anthony Weiner.