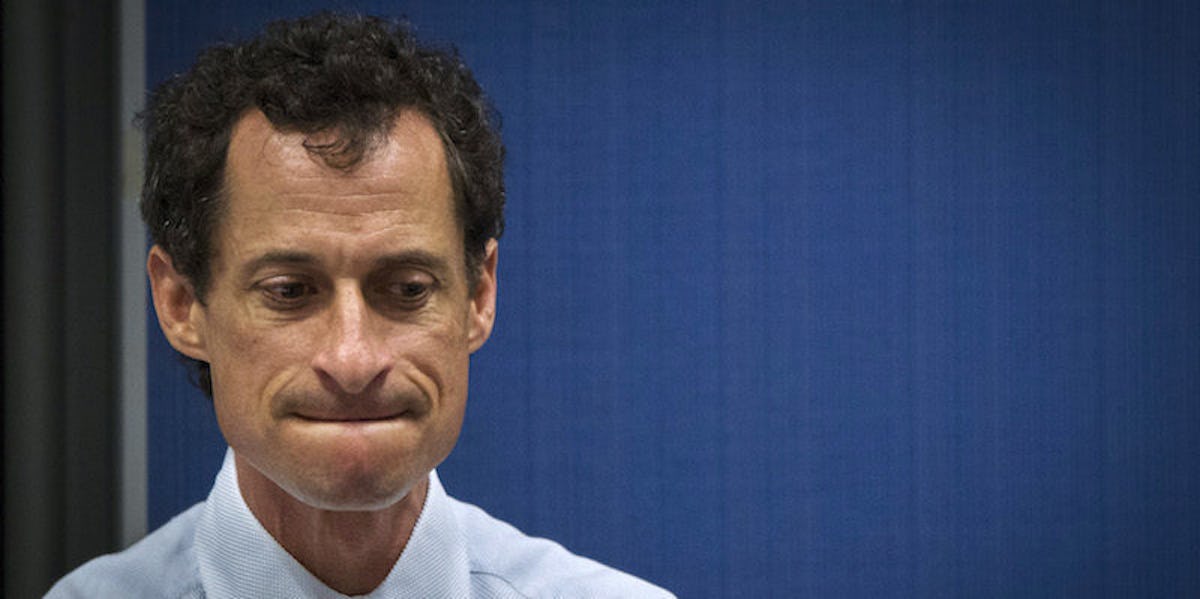 15-Year-Old Speaks Out About 'Role-Playing' Relationship With Anthony Weiner
REUTERS
A 15-year-old girl has spoken out about the online sexual relationship Anthony Weiner carried on her with her for months, in which he reportedly asked her to engage in role-playing fantasies, Daily Mail reports.
Indeed, the Anthony Weiner sexting saga continues. It seems there's no end to this man's depravity.
The girl, who remains unnamed because of her age, said her relationship with the former congressman began last January. Weiner was reportedly fully aware the girl was a minor and this was while he was still married to Huma Abedin, a top aide to Hillary Clinton.
Abedin recently announced she was leaving Weiner after yet another sexting scandal came to light.
Initially, the girl said she just wanted to see if Weiner was still on Twitter, and she direct messaged him. She said he responded about "two minutes later."
Weiner friended the girl on Facebook and started sending her more messages, and it wasn't long before he made the conversation very sexual. The girl said,
He asked me to undress and he started talking sexually. He asked me what I was wearing[...] It would just gradually escalate a little more each day[...]
Eventually, the two began speaking on Skype and the girl said it grew more "intimate":
He'd comment on my body, he'd ask me about masturbation. Sometimes there would be like role-playing. He would pretend that he was a teacher and I was a student[...] He had some, like, rape fantasies[...] Him showing up at my house when my dad was out of town.
The girl said she "tried to change the subject" when Weiner would discuss his rape fantasies.
Weiner also reportedly sent the girl shirtless selfies, and, in one particularly graphic message, said,
I would bust that tight p***y so hard and so often that you would leak and limp for a week.
Eventually, the girl felt guilty about the relationship and told her father and a teacher in April.
Weiner attempted to get the girl to tell her teacher and father she'd lied. According to what the girl told the Daily Mail, she agreed to do this and sent a letter to fake email addresses, before sending a copy to Weiner.
The girl talked to Weiner through July. After seeing another sexting scandal involving Weiner made public in August, the girl said she thinks he "needs help."
In a statement to the Daily Mail, Weiner said,
I have repeatedly demonstrated terrible judgement about the people I have communicated with online and the things I have sent. I am filled with regret and heartbroken for those I have hurt. While I have provided the Daily Mail with information showing that I have likely been the subject of a hoax, I have no one to blame but me for putting myself in this position. I am sorry.
The Daily Mail said Weiner did not deny exchanging "flirtatious messages" with the girl.
Watch the girl's statements in the videos above.
Citations: Daily Mail