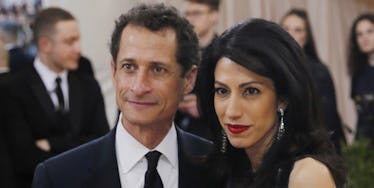 Anthony Weiner's Wife Reveals She's Leaving Him Amid Latest Sexting Scandal
REUTERS
After yet another sexting scandal was unveiled, Huma Abedin announced on Monday morning she and Anthony Weiner are separating.
The New York Post reported on Sunday night Weiner sexted a woman, who was not his wife, with a photo of him in bed -- lying next to his and Abedin's young son.
This is far from the first time Anthony "Carlos Danger" Weiner has been caught up by sexting.
Weiner resigned from Congress following a sexting scandal in 2011.  Weiner lost the New York City mayoral race following another sexting scandal in 2013.
Meanwhile, Abedin's profile and political power has been steady and rising. She has served as a top aide to Hillary Clinton for years and is considered a vital part of Clinton's presidential campaign.
Although she stayed with him through the other sexting scandals, this latest one was apparently the final straw for Abedin (who maybe got some inspiration watching Beyoncé's performance of Lemonade at the VMAs).
Abedin announced in a statement she is separating from Weiner.
Abedin has said in interviews Weiner helps to take care of their child while she is busy working. In an interview with Call Your Girlfriend, Abedin said,
I could not do what I'm doing for Hillary -- I'm on the road a lot on the campaign. As I mentioned earlier, I have a 4-year-old son, and I don't think I could do this if I didn't have the support of a spouse who is willing to basically be a stay-at-home dad as much as he possibly can so I'm able to be on the road. And I miss my son, but I don't worry about him.
Obviously, we don't know what was going on in their relationship, but I imagine it was extra shocking to have her young son involved in the latest scandal.
I mean, on a personal level, it's extra shocking for me to see any father do that, let alone one who has already embarrassed his high-powered, public-figure wife multiple times.
His apparent carelessness with sexting shows, to me, a lack of respect for Abedin, their child and their families. It's completely understandable why this one led to Abedin leaving him.
This scandal comes months after the release of the documentary "Weiner," which shows his disastrous mayoral run, including that sexting scandal. Weiner recently told The New York Times magazine Abedin did not agree to be in the documentary but ended up there anyway.
Abedin ended up in the public eye when she did not want to be on multiple occasions aside from the documentary. First, of course, when she was brought out to talk after her husband's scandals.
Then, she got dragged into discussion by Republicans because of her connection to Clinton and her personal background. Abedin is Muslim with Pakistani and Indian parents. She spent time growing up in Saudi Arabia. She speaks Arabic, Urdu and Hindi, in addition to English.
In 2012, Abedin was accused of being part of a Muslim Brotherhood conspiracy. John McCain stepped up to defend her. This year, Donald Trump, noted Islamophobe, accused her of spreading American secrets.
On Monday morning, Trump said he approved of Abedin's choice to leave Weiner (as if she needed his approval) but threw in some rumors about her lack of accountability.
Ultimately, Weiner was damaging to Abedin's professional career and put her young son in a horrifying context.
Boy, bye.
Citations: CNN, Call Your Girlfriend, The New York Times, The Washington Post, Politico