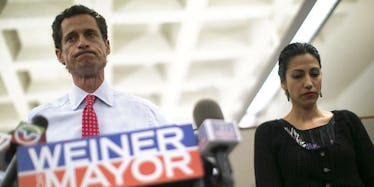 Anthony Weiner Sent Another Sext -- And His Son Accidentally Photobombed It
REUTERS
It appears Anthony Weiner didn't learn any lessons from the sexting scandals that tanked his political career.
While his wife, Huma Abedin, was traveling across the country as a top aide to Hillary Clinton in late July, Weiner was busy sexting another woman, according to the New York Post.
Meanwhile, his toddler son climbed into bed and accidentally photobombed him at a very inopportune moment.
At the time, Weiner reportedly sent a text to the woman that said,
Someone just climbed into my bed.
He then sent an explicit picture of his crotch to this woman with his son lying next to him.
According to the Post, the woman responded,
You do realize you can see you[r] Weiner in that pic??
Weiner told the Post he and the woman have been "friends for some time."
Given the sexting scandals the congressman was involved in prior to this, many are understandably baffled he would continue such behavior.
There has been a great deal of discussion about this on Twitter. The consensus seems to be: It really happened again?
When it comes to politics-related news, 2016 has definitely been one of the most eventful years in recent memory.