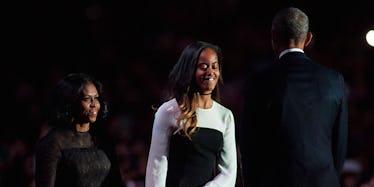 19 Reasons To Love Malia Obama In Honor Of Her 19th Birthday
Darren Hauck/Getty Images
The Fourth of July is great for many reasons: parades, barbecues, fireworks, and crushes on George Washington to name a few. But my favorite thing about Independence Day? Celebrating the birth of the eldest Obama child, Malia.
That's right, Malia Obama was born on the Fourth of July and is celebrating her 19th birthday on Tuesday.
Why do we love Malia? I mean, aside from the fact that she is an intelligent, thoughtful young woman who is just blossoming in front of our very eyes? Let us count the ways -- 19 ways, to be specific, in honor of her 19th birthday.
1. She's Intelligent.
Malia Obama, child of beautiful, Ivy League-educated geniuses Michelle and Barack, is herself soon to be an Ivy League-educated genius.
That's right: she'll be attending Harvard this fall.
2. She's Independent.
Instead of jumping right into another four years of academic rigor immediately after graduating from her prestigious high school, Obama decided to take a gap year. While gap years are pretty common in Europe, not many American students participate in the tradition.
Gotta love a woman who does her own thing.
3. She's Politically Engaged.
While still living in the White House, she often traveled with her mother and participated in the First Lady's Let Girls Learn initiative.
But her political leanings didn't just end with her tenure at 1600 Pennsylvania Avenue. She was spotted at an anti-DAPL protest at Sundance this past winter.
4. But She's Not Just Following In Her Parents' Footsteps.
Malia is her own, fully realized person. Or rather: she's pursuing her own interests and developing her own personality as she grows up. (No one is fully realized at 19, and hell, I'm still figuring stuff out at 27, but I digress.)
Instead of giving into the immense pressure that is often put on the children of presidents and going into politics or policy, Malia is, thus far, pursuing her interest in film. In the past, she interned on the set of Girls and spent time on the set of the Halle Berry movie Extant. Since February, she has been interning for the Weinstein Company, the award-winning independent film and television studio behind Halloween, The King's Speech, and Project Runway.
A presidential kid interested in pursuing creative arts? Be still my heart.
5. She's A Hard Worker.
Now, a lot of people have criticized her for being handed all these cushy opportunities. And anyone would be a fool to deny that having a famous father played a part in her access to their internships.
But that doesn't mean that she doesn't work hard.(And hey, if the fact that Sasha worked a typical summer job in Martha's Vineyard last year is any indication, both the Obama girls work for everything they have.)
At 19 years old, she has spent time on film sets, interned for an award-winning cable television show, and she spent her summer after high school graduation working at the U.S. Embassy in Spain.
Do you know what most of the kids I graduated with did the summer before college? Drank and went to the beach. Do you know what I did when I graduated from high school? Worked part-tie at Dick's Sporting Goods and spent the weekends down the shore. Malia works.
6. Which She Probably Got From The Work Ethic Instilled In Her From A Young Age.
Girl lived in the White House and still had to make her bed. I freaking love that. I grew up in suburban New Jersey with kids who were more spoiled than her.
7. Ella Habla Español. (Y Tradujo Para Su Papá en Cuba.)
Malia is part of the roughly 20 percent of Americans who speak more than one language. She even translated for her dad in an unofficial capacity during their visit to Cuba.
Me encanta.
8. This Face. Just Look At It. Amazing.
Continuing their amazing post-Presidency tour of the world, the Obamas went to Indonesia recently. And, of course, photogs followed. But Malia wasn't having it.
9. She's Close With Her Dad. (And I'm Insanely Jealous.)
As soon as I hit double-digits, my hand-holding days were over. I was too cool for my dad, and he embarrassed me endlessly, just by breathing. Now that I am Officially Old, I have figured out that there's no relationship quite like the one you have with your parents -- the two people in the world who probably care about you the most.
But Malia skipped the angry teenager phase and went straight to the mature, my-dad-is-my-bff phase.
And she even teared up while he was giving his farewell speech.
Gush:
10. In Fact, She's Close With Her Entire Family.
You don't wear matching sarongs with your mom and sister unless you like them.
Presh. So presh.
11. That Fashion Sense.
12. Seriously. The Clothes.
13. I Mean.
14. Come On.
15. She's Strong.
Okay, the teenage years are rough for anyone. But how about a kid whose dad is center stage on a global scale? Both Malia and Sasha were targets of harassment throughout their father's presidency. But she never acted out or snapped or made comments to the press.
16. No, We Mean It. She Is Strong.
Not only did she endure harassment and racist name-calling for eight years -- as a child -- she also had to endure months of being stalked by a Brooklyn man. Stalking and harassment are serious, often life-threatening abuse tactics which law enforcement all too often neglects to take seriously.
Malia reported her stalker -- which not many girls and women do. And she didn't let her stalker scare her into making herself small: she continues to live in New York and enjoy her life.
17. She's Low-Key.
She has never done an interview with a publication -- at least not without her parents present. She keeps her head down, works at Weinstein, and lives her life.
Some right-wing publications have kept an eye on her since she left the White House, but most of their coverage is just making mountains out of mole hills. For someone who could use her privilege to get all the attention in the world, she is super low-key. And who doesn't love a person who keeps their head down?
18. So Low-Key We Didn't Even Realize She Was Gone for Three Months.
Continuing the trend of Malia being thoughtful and totally below-the-radar, she almost spent nearly 3 months in Bolivia and Peru this past fall, living with a family in central Bolivia and learning about the political and social climate in the region.
19. She's Just A Normal 19-Year-Old
Look. Child of a president or rando from a Midwestern suburb, it doesn't matter. All teenage girls deal with so much.
People don't take them seriously while simultaneously expecting mature emotional responses. They're told to be the keepers of morality and chastity. They're told their interests are dumb, superficial. Our society hoists so much emotional baggage on teenage girls, just for daring to exist.
But teenage girls are freaking amazing. And Malia -- after being thrust into the spotlight at the age of 10 -- is just another teenager.
She went to Lollapalooza with friends and had a blast. I mean, look at her laughing and dancing. Look at that.
She occasionally parties with her friends. She travels, she makes faces in pictures. She rolls her eyes at her dad when he makes corny jokes.
God, if I had grown up in her situation, I would be some weird agoraphobe. But she's...normal. She's a teenager who parties with her friends and is getting ready to embark on a huge journey of discovery at college. She has fun, but she also has serious interests in life. And that is amazing.
So, happy birthday, Malia Obama, you absolute gem of a human being.