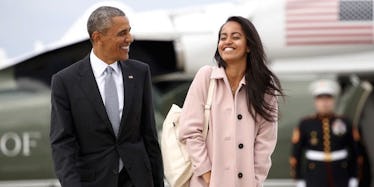 Malia Obama Casually Scores Coolest Internship In Hollywood Before Harvard
Reuters
Today marks the end of an era as Barack Obama steps down from his role as president of the United States and Donald Trump takes over.
However, it appears some members of the Obama family aren't ready to step away from the spotlight just yet.
After making headlines for starting a stylish choker necklace trend last week, Barack Obama's daughter Malia Obama is capturing the world's attention once more.
But this time, people aren't talking about her fashion choices. Instead, they're buzzing about her bright plans for the future.
That's right. Malia Obama just scored the coolest internship on the planet with Hollywood producer Harvey Weinstein before she heads off to college at Harvard University in the fall.
While there's no doubt her latest internship might be the most exciting one yet, this isn't Malia's first time working alongside some of the most talented people in Hollywood.
The ambitious 18-year-old has a pretty awesome resume that includes several impressive internships in the film and television industry.
Last year, Malia spent the summer in Williamsburg working as an intern on the set of Lena Dunham's hit HBO series, "Girls."
Before delivering coffees to Hannah, Marnie, Jessa and Shoshanna, Malia worked as a production assistant for Halle Berry's show on CBS, "Extant."
It's also been reported the trendsetting teen scored an internship at an unnamed fashion house.
Weinstein has produced a long list of films over the years, including current flicks like "Lion" and "The Founder," as well as several Oscar-winning films like "The King's Speech," "Pulp Fiction" and "Shakespeare in Love."
Malia is sure to gain some invaluable experience while working alongside Weinstein.
Apparently, Weinstein has been a strong supporter of the Democratic party, so it makes perfect sense why Malia would want to work alongside the Hollywood mogul.
In fact, President Obama even thanked Weinstein and his wife, Georgina Chapman, for "their friendship and support, and for the amazing movies that they've made" during a Democratic National Committee fundraiser hosted by the producer in 2013.
Neither Weinstein nor the Obamas have commented on the news about Malia's upcoming internship.
But I think it's safe to say Malia is definitely setting herself up for a very successful future.
Citations: Malia Obama lands internship with Harvey Weinstein (Page Six)