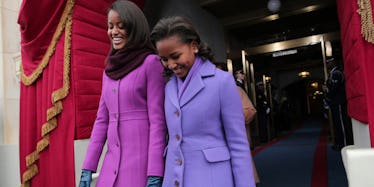 We Can All Learn From How Sasha And Malia Obama Are Dealing With Trump's Win
REUTERS
When Donald Trump was elected president of the United States, tons of women across the country found it hard to hold back their tears.
Why? Because Trump's misogynic viewpoints were (and still are) quite obvious. Let's call a spade a spade: He's about to grab America by the pussy, and there's not much we can do about it.
Many women (and men) have found peace of mind through protesting and volunteering during this unsettling time.
However, there are two women in particular we admire for how they're dealing with the election results: Malia and Sasha Obama.
Malia Obama, 18, and Sasha Obama, 15, have had a front row seat during the entire 2016 presidential election.
During President Obama's final press conference on Wednesday afternoon, a reporter asked how they were coping with the election results.
Christi Parsons, a reporter from the Los Angeles Times, asked Obama,
I wonder now how you and the first lady are talking to your daughters about the meaning of this election and how you interpret it for yourself and for them.
The President began by praising his beloved daughters before admitting how they truly felt.
He said,
Man, my daughters are something. And they just surprise and enchant and impress me more and more every single day as they grow up.
Then, he noted his girls were "disappointed" with the results and explained how they've looked up to their mother during the presidential campaign.
Obama continued,
They paid attention to what their mom said during the campaign and believed it because it's consistent with what we've tried to teach them in our household, what I've tried to model as a father with their mom, what we've asked them to expect from future boyfriends or spouses.
Well, I'm crying again.
There's no question these girls have it together way more than I do, and what Obama said next definitely solidified that point.
During the conference, he stated,
What makes me proudest about them is that they also don't get cynical about it. They have not assumed because their side didn't win, or because some of the values that they care about don't seem as if they were vindicated, that automatically America has somehow rejected them or rejected their values.
We can all learn from Malia and Sasha because no matter what the election results may bring, our values are not being taken from us.
We must follow their lead and hold tight to our morals during this trying time in history.
Citations: Here's How Malia and Sasha Obama Are Really Dealing With the Election (Cosmopolitan)