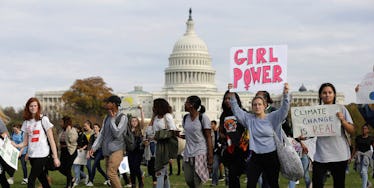 1,000 More Buses Are Going To The DC Women's March Than Trump's Inauguration
REUTERS
It seems as if the protests against Donald Trump are going to totally outnumber Trump's inauguration celebration next weekend.
1,200 buses have applied for permits to park in the RFK Stadium parking lot in Washington, D.C. on January 21 -- which is the day scheduled for the Women's March, a demonstration against Trump.
And as for the day of Trump's actual inauguration, January 20? Just 200 buses have applied for permits, according to D.C. city council member Charles Allen.
So either the people behind the Women's March are much better organized than Trump fans (which is possible because women are better at detailed planning), or six times more people are going to show up for the protest against Trump than for the celebration of his inauguration as president.
Of course, that's a hard projection to make as it's possible Trump fans are heading out to the inauguration through other transportation means.
But it's still a pretty staggering number.
The Women's March started as an informal demonstration after the election results came in and women wanted a way to express their disapproval.
It was soon turned into a seriously organized event because bitches get shit done.
The mission statement reads,
In the spirit of democracy and honoring the champions of human rights, dignity, and justice who have come before us, we join in diversity to show our presence in numbers too great to ignore. The Women's March on Washington will send a bold message to our new government on their first day in office, and to the world that women's rights are human rights.
The statement doesn't mention Hillary Clinton, but it does quote one of her most famous speeches.
The march is all about letting Trump know many people don't approve of his campaign promises and rhetoric.
Trump lost the popular vote by nearly 2.9 million votes, so there are literally millions out there who do not want him in office.
There are a lot of reasons for women, specifically, to disapprove of Trump. He has a patterned history of misogynistic comments. He has shown a lack of respect for women and sexual consent. He has threatened the dozen women who accused him of assault.
Trump has said he would undo Roe v. Wade and defund Planned Parenthood, despite a clear ignorance on abortion.
Trump has made disparaging, harmful comments about Mexicans and Muslims while supporting a rise in anti-Semitism.
He selected a vice president, Mike Pence, who has actively tried to limit women's access to healthcare and the rights of the LGBTQ+ community.
So, yeah, women have a handful of reasons to choose from, and we are making ourselves heard.
Citations: 200 buses have applied for DC parking to Trump's inauguration. 1,200 have applied to protest him. (U.S. Uncut), It's official: Clinton swamps Trump in popular vote (CNN), Donald Trump threatens to sue sexual assault accusers after election (CBS)