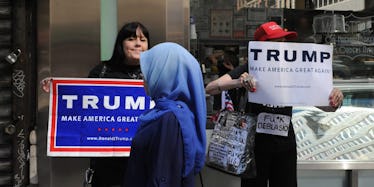 Trump's Proposed 'Muslim Registry' Is Actually Legal – And We've Seen It Before
REUTERS
Donald Trump is considering creating a Muslim registry, Kansas Secretary of State Kris Kobach told Reuters.
This would mean immigrants from Muslim countries would have to register with the government, so that officials would know who and where everybody is.
If this sounds a bit like the Nazis making Jewish people wear stars as forms of identification, well, I guess that's just how it sounds.
There's also another WWII reference you can make.
Carl Higbie – former Navy SEAL and spokesperson for the Great America PAC that supported Trump – defended the registry by using the example of America's internment camps for Japanese-Americans.
Mind you, America's Japanese internment camps are generally viewed as a "very bad thing we did." When a Virginia mayor made the favorable comparison last year, he was criticized nationally.
Higbie made the comparison on Fox News on Wednesday night. There, even Megyn Kelly recognized he was making a bad argument.
She said,
You know better than to suggest that. That's the kind of stuff that gets people scared, Carl.
A Muslim registry might sound crazy, but it has actually happened before... and not that long ago, either.
When Kobach was talking about Trump considering one, he was actually talking about Trump considering reinstating one.
After 9/11, the United States created the 2002 National Security Entry-Exit Registration System (NSEERS).
NSEERS said that men (not women) coming into the United States on non-immigrant visas from countries President George W. Bush declared to be "havens for terrorists" had to undergo fingerprinting, take photos and be interviewed at immigration offices, Vox explained.
They then had to check back in at certain times. Over 80,000 people were registered.
So, it wasn't explicitly a Muslim registry. Using the designation by countries is what helped keep it protected by law.
But basically, it was a Muslim registry.
See, there were 25 countries on Bush's list. One was North Korea. The rest were countries with mostly Muslim populations.
So who do you think ended up on that list?
The registry part of NSEERS was stopped in 2003, after a ton of people were like, "Yo, that's discriminatory."
The rest of NSEERS was ended by President Barack Obama in 2011.
But according to New York magazine, all he did was erase the country names, not the regulation itself. So, Trump could theoretically just say, "We're doing this again."
History can teach us a lot. Learn from it.
Citations: Reuters, Business Insider, Vox, New York magazine, New York magazine